Jerrod Carmichael: Why I Push the Social Envelope
For three years, Jerrod Carmichael's The Carmichael Show has covered serious subjects with heart and humor, including depression, the Bill Cosby rape scandal and political protests. Already this season, an episode tackled death with dignity, and in the June 21 installment, characters will say the N-word—uncensored—six times. Of course, reflecting the real world can be a gamble: An episode about a mall shooting was pulled from the schedule following the June 14 shooting at an Alexandria, Virginia, baseball field. Carmichael reflects on being the face of a show that isn't afraid to voice opinions while he plays a character who shares his name.
With stand-up comedy, once the audience starts understanding your perspective and who you are as a person, a level of shock, fear or misunderstanding about what you want to say is removed. The same is true now, having done a few seasons of The Carmichael Show. And with the series streaming on Netflix and Hulu, that gives us an opportunity to really reach the audience I think the show should. Telling a story where my [on-screen] grandmother gets Alzheimer's and decides to end her own life is easier in Season 3 than it is in Season 1. [Both network executives and viewers] know that we'll handle the story with care.
When I do stand-up, it's just me. When it comes to writing the show, if we're doing a political episode, there are varying opinions. As long as the writers listen to each other, showing all sides of the issue comes out in the work. We also don't care about viewers learning a lesson at the end; we just want them to hear the argument. And I hope they enjoy the episode.
During filming, even members of the studio audience who understand the types of topics we cover have a lot of nervous laughter at the moments when they are uncomfortable. In the death-with-dignity episode, they didn't believe she was going to do it. A large portion of the audience is not familiar with the show when they come in; I like that because it allows you to get a genuine response.
You know as a writer-performer that certain things are going to get people talking. Characters saying n—-r on NBC—I'm aware that's kind of crazy. It makes me excited that people are excited and curious how we're going to do it. Any type of anticipation is healthy.
Pitching the story to NBC was not tricky. I said, "Hey, you know how I'm always saying n—-r [off screen]? We're going to do that in front of the camera." I explained how I was going to use the word honestly and naturally, and that each time we say it, it comes from a real place. We include the word a few more times than I'm sure people in business affairs would be comfortable with, but we made it honest.
I get my inspiration from older shows—everything from Murphy Brown to Martin. I like what Donald Glover's Atlanta did in the first season. I like rhythm, so I like Bob's Burgers a lot, because the dialogue is really great. They overlap [while speaking] and that's a thing I borrow. Norman Lear always leans in to the truth and he doesn't have a fear of unlikability. That's where a lot of television is now: Everyone wants you to smile at the end of an insulting joke. Norman never did that. Truth trumps unlikability.
What my character says is normally close to my true feelings. Because I play someone with my name, people get excited to come up to me and say they really agreed or disagreed with me. It feels like I'm talking with my friends.
I even use my parents' real names for my on-screen parents, but I try to be respectful of my family's privacy and not cross any boundaries. Handling that with care is key because you want them to be happy, enjoy the show and not cringe and say, "Ah, I wish he wouldn't have said that about me." I tell their stories as it relates to me. It is probably one of the weirdest experiences ever, watching the show with them. They love all of it.—As told to Marisa Roffman
The Carmichael Show, Wednesdays, 9/8c, NBC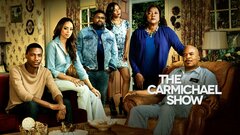 Powered by