Can 'Hannibal' Be Saved? Creator Bryan Fuller on the Show's Fate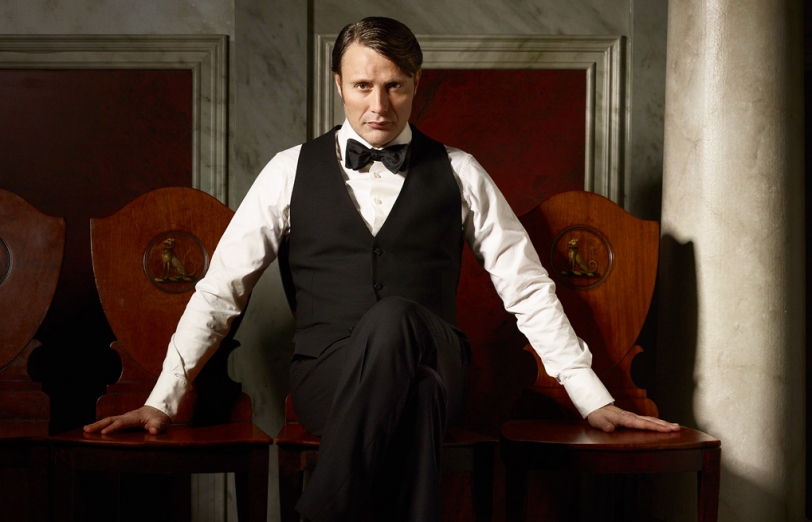 Fannibals, don't clear your plates yet. Hannibal creator Bryan Fuller confirms that talks between producer Gaumont International Television and several potential new homes for the drama are ongoing.
That includes Amazon, which already holds the streaming rights to the show's first three seasons, and other interested parties. NBC announced earlier this month that it wouldn't bring back Hannibal for a fourth season, and Fuller admits that he had sensed that scenario for a while–which is why he signed on to adapt the Neil Gaiman novel American Gods with Michael Green for Starz.
We talked to Fuller about the internal NBC debates over Hannibal; whether he's soured on network TV; how Gaiman will write for American Gods; when he would like to bring Clarice Starling to Hannibal; and what the show might look like at a new outlet.
You've been talking to quite a few reporters about the possibility of Hannibal moving to a new home. Any movement with those conversations?
I know they are having the conversations. The studio had asked me what the scope of Season 4 is, so they could prepare production proposals for potential distribution partners. That's where we essentially left it. It's all still unfolding as we speak.
Why did NBC have to make their decision now, so early in the Season 3 run?
Their contract with Gaumont stated they had to give Gaumont a decision by June 19. So they made the decision by then.
They're still bringing the show to Comic-Con and promoting the show, even though they essentially canceled it already.
It actually shows how much they do support the show. They wanted to give the fans a Comic-Con experience and fully realize that we might be picked up elsewhere. Jen Salke, the president of entertainment at NBC, has been fighting her head of scheduling [Jeff Bader] for the last three years. He wanted to cancel it after the first season. So she's been in there with her sleeves rolled up, fighting the fight internally at NBC. There are a lot of people who wanted it off the air because mathematically it doesn't make sense. You can't take it to the upfronts because it doesn't score high enough ratings for them to show advertisers. I got the sense at the beginning of the season from Jen that she wasn't going to win the fight a fourth time unless the ratings went up.
You got three seasons on a broadcast network, so that must still feel like a victory.
Absolutely. And the way the network is set up, the departments are somewhat autonomous. So the head of scheduling wields a lot of power and has seen Hannibal's head on the chopping block since Season 1. If it weren't for Jen Salke we wouldn't have gone past Season 1 at all.
You mentioned in another interview that you might have soured on broadcast TV, given your heartbreaks over the years: Wonderfalls, Pushing Daisies, Hannibal. Would you do another show for broadcast TV?
It depends on the project. I would love to work with Jen Salke again. She's been incredible with this particular run of Hannibal on NBC. But it would have to be the right project. I would love to do a miniseries on NBC. Something that was limited, that didn't depend on ratings, or had a short life that could be celebrated in its time and then move on, as opposed to the TV series game where you're wanting to have another season and constantly getting ratings update every time you air. That whole stomach-churning game of "will they or won't they," I'm not interested. For something like Hannibal, I don't think I would go back to a broadcast network with that. But if something was specifically designed to have a limited life and wasn't dependant on the ratings, then I could see that being worth it.
It does seem like the networks are going back in that direction, doing more short-order and limited-run anthology series.
Yes, and Jen and I have talked about what we would do together again as a miniseries. She made that very clear at the beginning of this season, in giving me the impression and the information, without saying it, that if the ratings trend of Hannibal was continuing in that direction, a fourth season would be difficult to be able to defend.
How is your new show, Starz's American Gods, going?
It's going really well. We just got back from our meetings in Europe to find our European broadcasters. Two of the 10 episodes have been written. Neil Gaiman is going to be writing an episode in the first season, which is very exciting for Michael Green and I. We just hired casting directors and we're starting.
There was some concern about how your duties on American God would impact Hannibal. If Hannibal returns, how will you juggle the two?
That was the conversation we had with the studio. I was forewarned about the possibility of a fourth season of Hannibal on NBC looking dire, so I was excited to embrace American Gods. If there were a fourth season of Hannibal, it would be a matter of navigating those schedules so I could participate in both. I am dedicated to American Gods, but I am also dedicated to Hannibal. Where there's a will there's a way. The studio didn't blink when I told them the schedule parameters under which I would be able to do a fourth season. So it is absolutely possible, but it does not mean it's a foregone conclusion.
You've also been talking a lot about Clarice Starling [from The Silence of the Lambs], a fan favorite character that you don't have the rights to. Is there a chance you could do a deal with MGM for Clarice?
It's hard to say. The parameters of the deal with the network it was complicated. So is there an opportunity with the new distribution partner that we may be able to rectify that? It's hard to say. But the good thing is Season 4 doesn't involve Clarice. She was the plan for Season 5. The Season 4 idea was taking something from one of the novels and turning it on its ear, and then cutting that ear off and shoving it down Will Graham's throat.
If you did a deal with a new partner, would it be for fewer episodes?
Yeah, the new venue would be an opportunity to adjust how many episodes we do. I would love to do 9 or 10 as opposed to 13. It feels so digestible. Tightening up the story and shoring up the narrative by three episodes is exciting. It can make things tighter and move quicker. At the start of Season 3 we had a couple of episodes that were very ponderous and intentionally so to put the audience in the characters' shoes and allow them to feel the grief of the Season 2 finale and the separation of the characters. We wanted to make sure you were feeling what the characters were feeling. And that required certain poetry and handling how Will Graham was going to react after surviving the Red Dinner and where Hannibal was with the abandonment of his friend. It really allowed us to be aggressively character based. Some audience members were upset that nothing was happening in the first two episodes. For me, that's what the story was demanding.
It was like being in a state of shock.
Absolutely, and that was the intention, to really explore, how would Will Graham feel after all of this happened to him? How would he go on? It felt realistic to stop and let the man breathe and find his desire again for Hannibal Lecter.
Powered by