The Prancing Elites Project Features an Unlikely Dancing Friendship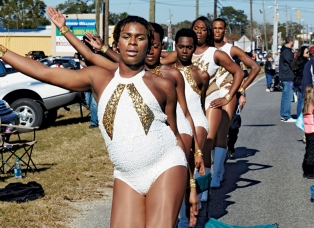 So, they think they can prance! Oxygen's new docuseries The Prancing Elites Project follows five fearless best friends who have formed a gender-nonconforming African-American dance troupe. (Their specialty: J-Setting, the style of movement featured in Beyoncé's "Single Ladies" video.) And did we mention they're from Mobile, Alabama? "These guys are unlike anyone else," says Rod Aissa, the network's executive vice president of original programming and development. "To find each other–and this shared passion–where they're from? It's so unlikely."
The 12 episodes will follow the pals as they struggle to hone their craft, book paying gigs, and finesse their way onto stodgy parade routes. "They face many obstacles, but they're convinced it will all turn out OK," Aissa says. "They're underdogs–but they're also sort of superheroes."
The Prancing Elites Project, Series premiere, Wednesday, April 22, 10/9c, Oxygen