The Following's Jessica Stroup on the Show's Creepy Turn
It's a long way from 90210 to The Following, but Jessica Stroup has nailed the transition from soap teen to tough FBI special agent Max Hardy. As one third of Team Hardy, the self-confessed tomboy from South Carolina brings a mix of smarts and badass sass to her role, which is going to come in handy as the long-awaited execution of psycho killer Joe Carroll (James Purefoy) inches even closer tonight.
As if this show wasn't creepy enough, now Max's boyfriend, Tom (Gbenga Akinnagbe), has gone all weird and is spying on her after finding out she slept with partner Mike (Shawn Ashmore). Right?
That character took a real turn! [Laughs] I don't think Tom was ever a bad guy, but he was put in a position where he was shocked and disgusted, so now he has a computer that's this crazy portal into her apartment and her private life. And he's going to use that to get her back, making it even creepier.
And how awkward was filming that love scene with Shawn?
What are you talking about? I loved it! Shawn is beautiful! I was quite happy that day because we had to do numerous takes. The only awkward part was when his beautiful wife was talking me through how to make him feel comfortable. [Laughs]
Fox is calling this week's Joe-Ryan situation "not to be missed."
It's one of the best episodes of the whole season. I love seeing James Purefoy and Kevin Bacon [who plays FBI agent Ryan Hardy] together. Their chemistry is amazing, and I think fans who have been around since Season 1 will love seeing them together again. There's fun stuff that happens at the prison. Mike and Max are right there on Ryan's heels, so we are present for all the drama that goes down.
The show is not afraid to kill off regulars. Does it still worry you that you could get that script?
Absolutely. There's always that fear. Every single episode, I think, "OK, what can I do to bribe [executive producer] Marcos Siega?" You never want to answer one of his calls. It's usually not a good thing! [Laughs]
The Following, Monday, April 27, 9/8c, Fox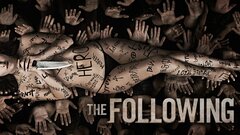 Powered by