Janel Parrish: Final 'Pretty Little Liar' Episodes Are 'Going to Be a Rough Ride'
Yes, we're going to find out who A.D. really is. Yes, we're going to find out who killed Charlotte. But will our Pretty Little Liars live happily ever after or six feet under?
Janel Parrish (Mona) made a stop at the Los Angeles offices of TV Guide Magazine last week and gave us a peek into what's coming next on the long-running, Freeform drama. Will Aria (Lucy Hale), Emily (Shay Mitchell), Hanna (Ashley Benson), Spencer (Troian Bellisario) and Alison (Sasha Pieterse) will finally trust Mona? How did she approach the nightmarish singing she did in last week's episode? And what is her prediction of how fans are going to react to the series finale?
After everything you've all been through, the girls just do not trust Mona…
It's not like I've ever tried to kill any of them! [Laughs] Poor Mona! Yes, you do feel bad for her because at this point she has proven her allegiance and has been trying to help them through some pretty bad stuff. She's come out on top and proven her loyalty. But it's funny, whenever she gets puppy-eyed and she goes, 'I don't understand why you guys don't trust me,' and it's like, 'Well, you did some pretty bad things. You also hit your best friend with a car!'
Will we see the Liars' relationship with Mona change before the finale?
Over the next few episodes, she starts to get more involved with the gang, but with that comes a little bit of darkness. She said to Hanna, 'You're dealing with an addict. I was addicted to this life and I'm scared to touch it,' but the more she becomes involved in with the more she gets seduced by the game. Which side is going win, the dark side of Mona or the good side of Mona where she wants to help her friends? But that's what makes the character fun since you never know what she's going to do.
What do we see in the next episode?
The Liars are in big trouble. The cops send out a warrant for their arrest and, again, they need Mona's help. Some bad stuff is going to happen over the next few episodes, but ultimately it's leading to who is A.D., but one of the biggest questions will be answered: who killed Charlotte? So we'll find that out soon.
And the fun part of a show wrapping up is seeing familiar faces pop back up. Anyone we can expect to see soon?
Yes! In the next episode we get to see Toby again. He's a fan favorite. I love Keegan [Allen], I love Toby and he's always been the perfect boyfriend on the show. I'm excited for fans to see what happens when he comes back into Spencer's life. What happened with he and Yvonne was really sad but I know a lot of fans are still hoping for Spoby so we will see.
You were singing on the show in last week's episode, but you also were singing in character as Mona. How was that to do this time around?
It was so much fun. Oliver [Goldstick, executive producer], who wrote the episode, came to me and said, 'We got this song cleared and it's going to be an Aria nightmare version of this song and we had the idea to make Mona this nightmarish singer.' I was like 'Yes! Absolutely!' I've been able to sing on the show a couple of times, but it's always been like little snippets or creepy singing. I've sung so many creepy little songs on the show so to be asked to do a legit musical number on the show was a dream come true. I'm a huge musical-theater fan so anytime I'm asked to do singing and dancing, I'm 100% in.
And such an iconic song, too!
Yes! Jailhouse Rock. I was like 'How are we going to make that nightmarish?' and they found a way to make the track super creepy and dark and they made me a zombie singer with great, creepy choreography and lighting so they made it look this really cool retro nightmare from a musical and it was pretty fun. But I was like, 'oooh, I need to find a way make this song Mona's but also make it sound good because it's an iconic song.' I wanted to do it justice.
What were the table reads like for these last episodes?
I'm always shocked by what they write in the script. We aren't told ahead of time what's going to happen so we're looking at the script and reading it for the first time. …we were shocked by everything. It's going to be a rough ride. It's going to be a great ride.
And a few tears?
Tears! A two-hour table read [for the finale]. Pretty much everyone who was ever been involved with the show since day one was at the table read…the girls just couldn't even say the lines. Just tears everywhere.
What do you think will be the audience reaction to the finale?
I think they're going to be super happy. I think the finale is a love letter to the fans. Marlene [King, creator] put this beautiful finale together and it ties up the loose ends. There are also so many beautiful homages to the writers, to the cast, to the fans, just fun little tidbits that she put in there and if you have been a fan since day one you'll know that's for you. It's a wonderful finale.
So unless a Mona spinoff happens you'll be putting her behind you. What's next?
I will tease that I will be back on stage by the end of this year. I can't say what it is yet but I always loving going back to my theater roots so I'm excited about that. I also just worked a movie, The Purple Rose. For people who love Mona, I play a completely different character so it was fun as an actress to step into the role of a victim and not being the person behind the strings. It's a nice romantic, suspense film. But Mona will always be the most special part that I've ever played. Seven years so I'm definitely sad to say goodbye to her.
Pretty Little Liars, Tuesday, 8/7c, Freeform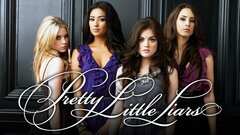 Powered by