Science's Through The Wormhole with Morgan Freeman Tackles Bigotry, Aliens, Lying and The Matrix
Are we all bigots? Can time go backwards? Do we live in the Matrix?
Those are all questions tackled in the sixth season of Science Channel's Through the Wormhole with Morgan Freeman. The show returns on April 29 at 10/9c with a timely investigation into whether human beings are naturally prejudiced.
"Every year we take a fresh look at the questions that seem to be bubbling up in society," says Science Channel general manager Rita Mullin. "We particularly did that this year. One of the gifts of this series is you can reinvent the subjects each year."
The season premiere "Are We All Bigots?" looks at the research of Colorado psychologist Josh Correll, who studied racial bias in life-or-death decision making. NYU's Jon Freeman discusses his findings on how our brains perceive a cultural stereotype of their race or gender for a split second before our consciousness takes over. Chicago researcher Peggy Mason looked at white and black rats; Harvard's Mina Cikara shows how people instantly form tribal allegiances even when they are divided randomly; and University of Buffalo's Matthew Grizzard proposes ultra-violent video games to beat bigotry.
"We can do episodes like this because people know we're a high-end franchise," executive producer Bernadette McDaid says of the show, which has received three Emmy nominations. "It gives us a lot of bandwidth to tackle."
That's why Through the Wormhole has had fun with topics in the past like whether a zombie virus might be real. Perhaps the most unusual topic this time out is whether we're living in the Matrix. "Rita and I are huge science fiction fans," McDaid says, "For the Matrix episode, the original title was 'Is reality real?' But because The Matrix is so in popular zeitgeist, everyone knows what that means, this give it more wide appeal. One of our ongoing goals is to make science feel relatable and accessible."
This season also includes a refresh of the show's set, which McDaid says was inspired by the recent Tron movie reboot. The opening segment featuring host Morgan Freeman has also been changed.
Freeman also continues as an executive producer, and has a say in which questions are tackled.
"When we first began this journey, I never imagined how many questions could be examined and how far mankind could push the boundaries of what was possible," says Freeman. "This season, we've given the series a bold new look and the questions are more provocative than ever. I know fans both old and new to the show will not be disappointed."
Here is a list of this season's episodes (all at 10/9c):
Are We All Bigots? (April 29)
Can Time Go Backwards? (May 6)
Are We Here for a Reason? (May 13)
Do We Live in the Matrix? (May 20)
Are There Aliens Inside Us? (May 27)
Why Do We Lie? (June 3)
And here's a first look at the new season of Through the Wormhole.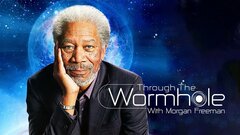 Powered by