What's On: Broadway Shines at the Tony Awards, and 'Orphan Black' Begins its Final Season
The 71st Annual Tony Awards (Sunday, 8/7c, CBS): Though it has been reported that Bette Midler, favored to win in the title role of Hello, Dolly! (a shoo-in for musical revival), may not perform in character, she is confirmed to participate in the awards ceremony honoring Broadway's best and brightest. No show dominates the way Hamilton did a year ago, but numbers from new musical hits Dear Evan Hansen, Come From Away and Natasha, Pierre, & The Great Comet of 1812 will whet the theater lover's appetite, along with performances by the casts of Bandstand and War Paint (which stars two two-time winners, Patti LuPone and Christine Ebersole). Kevin Spacey hosts from Radio City Music Hall, home of the Rockettes, who are expected to kick up their heels in a special musical number.
Orange Is the New Black (Friday, Netflix): The inmates are running the asylum in the fifth season of the women's-prison drama, which unfolds over three days and long nights of the soul during a prison riot. Will the demands articulated by a grief-stricken Taystee (the terrific Danielle Brooks) be met, or even heard? That's the question as tension very slowly builds over 13 fitfully compelling episodes.
Orphan Black (Saturday, 10/9c, BBC America): Having finally won a well-deserved Emmy for her fabulously varied work as a variety of clones, Tatiana Maslany begins her fifth and final season with a battered Sarah regrouping for a climactic showdown with the insidious Rachel (both Maslany). But what of Cosima, the pregnant Helena, and Alison? So many versions of her to root for—or against.
Claws (Sunday, 9/8c, TNT): Aspiring to be the Breaking Bad of money-laundering nail-salon crime melodrama, Claws needs to retract its talons. It works too hard to establish an outrageously raunchy, sordid edge. Welcome again to the new TNT. When a show like this has little to offer beyond flashy debauchery, it risks becoming a trashy, shallow cartoon. It would help if we didn't see nearly every violently preposterous twist coming. The one saving grace: the forever fierce Niecy Nash as Florida salon proprietor Desna, a brazenly ambitious goddess who oversees a crew of quirky femmes (including the ever-entertaining Carrie Preston) who work under the thumb of a demented, corrupt boss (Breaking Bad's Dean Norris). Nash does her best to rise above, but I couldn't help thinking she'd be a great addition to Orange Is the New Black.
The $100,000 Pyramid (Sunday, 10/9c, ABC): Capping a "fun and games" night that includes a double dose of Steve Harvey (Celebrity Family Feud and the new Steve Harvey's Funderdome, featuring inventors pitching a studio audience), the classic Pyramid returns. Michael Strayhan hosts, and the first match is a delight, with Saturday Night Live's Leslie Jones riotously competing with LL Cool J. "I give so much better!" she screams after her first round. And eventually, she does.
Inside Weekend TV: One of Hollywood's greatest and most glamorous stars is remembered in Showtime's Becoming Cary Grant (Friday, 9/8c), which borrows from the actor's unpublished autobiography and newly discovered personal footage to reveal the man born Archie Leach in all of his complexity and contradictions. … If streaming's not your thing, Lifetime gives you a chance to sample the first two seasons of Amazon's wonderfully twisted rom-com Castastophe (Friday, 10/9c) in four-episode mini-binges. Sharon Horgan and Rob Delaney write and star in this unconventional romance about American Rob, whose fling with Irish Sharon in London leads to an unexpected pregnancy and many more bawdy complications. … The legendary Johnny Mathis delivers his greatest hits in a concert film and PBS pledge special, Wonderful, Wonderful! (Saturday, check local listings at pbs.org). … Nickelodeon's Broadway-bound SpongeBob SquarePants takes on a Sopranos vibe in a new episode (Saturday, 10 am/9c) featuring Joe Pantoliano as expert thief Sticky Fins and Steve Buscemi as getaway driver Dorsal Dan. … OWN previews a new season of Oprah's Master Class (Saturday, 10/9c) with Kevin Hart opening up about career and family. … One of The Daily Show's top comic correspondents, who'll be getting his own late-night show in the fall, dives into one of the nation's most polarizing debates, tongue planted firmly in cheek—or should we say holstered?—in Jordan Klepper Solves Guns (Sunday, 10/9c, Comedy Central).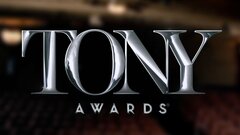 Powered by