Why This Season of 'Inside Amy Schumer' Is a Game-Changer for Its Star
There's an undeniable moment when everything just clicks for an artist, when the work touches the right nerve with audiences at the right time and the right place. It's more than safe to say that Inside Amy Schumer's hilarious third season—which enters its final stretch with tonight's episode—has solidified the show's leading lady and namesake as a bona fide star. But it's not just that Schumer is finally getting her due after years of work; it's that her bold, smart, and on-the-nose brand of comedy was desperately needed at this particular time. She's filling a void in the comedy world with a voice that was ready to be heard.
The buzz for the Comedy Central series was already strong going into this season, thanks to last year's hilarious and spot-on sketches, like "I'm So Bad," "Chicks Who Can Hang" and "A Couple Chooses a Movie." But Schumer upped the ante this year, releasing sketches early online to capture buzz and move the show from word-of-mouth favorite to downright appointment television. The premiere alone included the delightfully dirty music video for "Milk Milk Lemonade," a bitingly funny Friday Night Lights parody and the awesomely, unapologetically feminist "Last F***able Day." Featuring Patricia Arquette, Julia Louis-Dreyfus, and Tina Fey (and directed by Nicole Holofcener), the sketch brilliantly skewered the standards held for older women in Hollywood.
The entire season has continued to fire on all cylinders thanks to unflinchingly honest takes on taboo topics, from sexism to child beauty pageants to the Bill Cosby scandal. But the crowning achievement was turning one incredible sketch into an entire episode. "12 Angry Men Inside Amy Schumer," parodied the classic 1957 film, only instead of a jury gridlocked in a murder trial, it's 12 jurors (including Jeff Goldblum, John Hawkes, Vincent Kartheiser, and Paul Giamatti) debating the "bangability" of Schumer and whether she is hot enough for TV. The spoof was not only a brilliant social commentary and an epic takedown of Internet culture, but it was a compelling and relentlessly funny half-hour of television.

The remarkable part isn't that she drew A-level casts for those skits (not to mention a slew of notable guest stars including Jerry Seinfeld, Bill Nye, and fellow 2015 breakout comedians Abbi Jacobson and Ilana Glazer of Broad City), but that all those household names didn't steal the spotlight from Schumer herself. She found a balance between going to extremes and staying relatable, all while holding her own alongside major stars.
What make this more than just a really great season, however, is that she's also making waves outside of the show. The 34-year-old comedian (who is no stranger to giving rousing, inspirational speeches) knocked 'em dead earlier this month with a candid, hilarious speech at the 2015 Glamour Women of the Year Awards. The recipient of the Trailblazer of the Year went no-holds-barred when she told the audience, "I'm probably like 160 pounds right now, and I can catch a dick whenever I want."
Everywhere you turn lately, Amy is there. She gave The Bachelorette a chance to be intentionally funny (and had fans rooting for her to star in the show's next season) with her cameo appearance, she ticked off Kim Kardashian and Kanye West, and she's garnering movie buzz as star and co-writer of the upcoming Judd Apatow-directed Trainwreck. Oh, and in the midst of all this hoopla, she's currently doing a comedy tour.
There's a reason everyone's so interested in what she's saying lately. Schumer's hitting at a time when the word "feminism" isn't just a part of our lexicon, it's an important part of our national dialogue. And Schumer, like other trailblazing funny-women before her, isn't letting her voice go unheard. It's not just other women who are listening, it's anyone with a funny bone and a brain.
This isn't just an Amy Schumer moment, it's the arrival of Amy Schumer: Superstar.
Inside Amy Schumer, Tuesdays, 10/9c, Comedy Central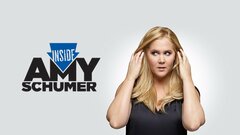 Powered by