'Sharknado 5' Gets Official Title, First Round of Cameos Announced
Reading that model Fabio will be playing the Pope, and that actress/comedian Charo ("cuchi-cuchi!") will be playing the Queen of England, in the upcoming Sharknado movie (Sunday, Aug. 6) probably still aren't among the Top 10 craziest things we've seen from this Syfy original movie franchise.
But they were certainly eye-catching among the network's announcement Thursday of the sequel's official title—Sharknado 5: Global Swarming (see teaser art above).
Also announced were the film's official tagline, "Make America Bait Again!" and an initial listing of the movie's cameo appearances.
Here's who we know (so far) are making cameos in Sharknado 5: Global Swarming (Syfy promises "many more" to come):
Model Fabio as the Pope
Professional skateboarder Tony Hawk as a masterful weapons operative strategist
Musician Clay Aiken as Llewelyn, a cutting edge technology genius
Musician Olivia Newton-John and daughter Chloe Lattanzi as Orion and Electra, two brilliant scientists who help defend Australia from a looming Sharknado
Musician Bret Michaels as a visiting artist who gets trapped in the storm
Comedian Margaret Cho as a fussy bride whose honeymoon is interrupted by sharks
Musician/comedian Charo as The Queen of England
Comedian Gilbert Gottfried as storm chaser Ron McDonald
Today hosts Al Roker, Kathie Lee Gifford and Hoda Kotb as themselves
Olympic diving medalists Greg Louganis as Zico, a high-end art thief, and Tom Daley as himself
Olympic freeskiing medalist Gus Kenworthy and NBC News investigative correspondent Jeff Rossen as themselves
Porsha Williams (The Real Housewives of Atlanta) as Andromeda, an archeologist and member of the elite "Sharknado Sisterhood"
Tiffany "New York" Pollard (Flavor of Love) as Vega, a Brazilian black market artifacts dealer
Chris Kattan (formerly of Saturday Night Live) as The Prime Minister of England
Cat Greenleaf (Talk Stoop) and Dan Fogler (Fantastic Beasts and Where to Find Them) as themselves
Ross Mullan (Game of Thrones' White Walker) as Dr. Wobbegon, a scientist who has made breakthroughs in meteorological studies to track Sharknado storms
Cassie Scerbo, Masiela Lusha and Cody Linley will also reprise their roles from previous Sharknado installments.
The plot, such as it is, of Sharknado 5, per Syfy, says that this time the mission gets personal for Fin (Ian Ziering) and his bionic wife April (Tara Reid) when their young son gets trapped in a Sharknado and is transported all over the world. The international production promises to feature action "from London to Rio, Tokyo, Rome, Amsterdam and beyond."
Sharknado 5: Global Swarming, Aug. 6, 8/7c, Syfy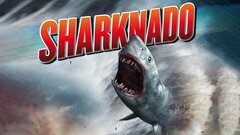 Powered by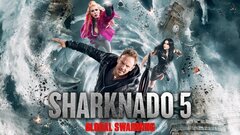 Powered by