Principal Photography on 'Sharknado 5' Begins; Latest Entry Will Film in More Than Five Countries
Syfy and production company The Asylum announced Thursday that the newest entry in the so-bad-it's-good Sharknado franchise has begun principal photography and will be going international (or, to use their own groaningly punny term, "fin-ternational").
Shooting on Sharknado 5 (currently a working title) began Thursday in Bulgaria, and Syfy says the production will film in more than five countries, including the U.K. and Australia. Given that the most recent film, Sharknado: The 4th Awakens, ended with the Eiffel Tower being carried away from Paris by a Sharkando, viewers probably could have guessed that the series would take a global approach sooner rather than later.
This script pull from Sharknado 5 might give some indication about where the film is headed in terms of location:
First Brexit, now a Sharknado? Sorry, U.K.
Anthony C. Ferrante, who directed the first four films in the series, is also helming this one. Ian Ziering and Tara Reid are reprising their roles as shark-fighting heroes Fin Shepard and April Wexler, with Cassie Scerbo also back as Nova, a bartender-turned-badass shark fighter.
Not that anyone necessarily watches a Sharknado movie for its plot, but here's how Syfy is describing the story of Sharknado 5: "With much of North America lying in ruins, the rest of the world braces for the inevitable—a global Sharknado. Fin Shepard and his family must put a stop to this disaster before Earth is completely obliterated."
Since the first Sharknado movie premiered in 2013, the series has been a pop-culture phenomenon, with the films taking over Twitter and other social media during their airings. Although some people may be thinking the franchise has "jumped the shark," so to speak, it's clear Syfy is going to keep at it (though, after going international, and even going into space in the last movie, it's hard to see where it can go from here).
A lot of the fun in the Sharknado movies is the casting of mid-to-lower-level celebrities as shark bait, so it's likely we'll see casting announcements as production continues. No premiere date for Sharknado 5 is officially set, but if Syfy is true to form, it will probably be this summer sometime.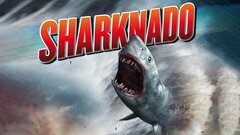 Powered by