Double Trouble: A Chat With 'Brother vs. Brother' Stars Drew and Jonathan Scott
The two hottest faces in TV home improvement look nearly identical. Twins Drew and Jonathan Scott—a real estate agent and contractor, respectively—are the popular hosts of HGTV series including Brother vs. Brother, and the Property Brothers franchise.
We caught up with the Scott brothers (their playful older brother J.D. also joins them in some of their adventures) to chat about Brother vs. Brother to get the scoop on the new season, which premieres Wednesday.
It's my first time talking to identical twins on the phone, so it'll be interesting trying to tell you two apart…
Jonathan Scott: What we'll do is we'll just have Drew talk in a British lady accent.
See Also
Real-estate porn, decluttering sessions, rustic renovations, flipping gambles, dueling decorators and hot twins —here are our favorite HGTV shows from the network's 23-year history.
For Season 5 of Brother vs. Brother, you're going to Galveston. Why did you switch locations?
Jonathan: We've done the last two seasons at home in Las Vegas, and we thought to ourselves, "we want to mix it up." We're always trying to challenge ourselves as well as challenging each other. We thought the complete opposite of doing these challenges in the desert, was waterfront property. So we searched everywhere, all across the country, looking for beachfront property, but we wanted something that was pretty affordable. When we found Galveston, we were so absolutely blown away, and we knew this is what we wanted to do. We've never done beachfront properties before.
Drew Scott: This is actually an interesting thing for Jonathan and me. Over the years, we've renovated hundreds of homes. We've never done waterfront, and we've never done houses on stilts. In this entire area of Galveston, all the houses are on stilts because it's a flood issue.
Jonathan: It makes sense that tall guys should renovate tall houses.
How does being in a coastal environment change your design decisions and aesthetic?
Drew: Well, the big thing for Jonathan and me, we always need to make sure that we're appealing. This show is a flipping show, right? We're buying these houses with our own money—we have $600,000 each to buy and renovate—so we have to make sure we stick within that budget, and appeal to the local buyer. What is the local buyer looking for? Well, down there, they want more of a nautical feel, a seaside feel.
Jonathan: And on the construction side, the ocean and the high humidity and the salt content in the air, it is so rough on construction material, so these houses have been eroded away for years and haven't been maintained. So, yeah, it was a real learning experience.
Drew: Jonathan's house, it was dated and needed some work, but my house made me cry. That thing was in rough shape.
What can you tease about this season of Brother vs. Brother that we've never seen before?
Jonathan: You've definitely never seen us do this style of a design. I'm more of a modern twist on a nautical design, and Drew's going for that classic coastal feel.
What is at stake this season?
Jonathan: The thing that I just really love is that we have friends, different hosts from different shows, who come in, and they'll judge us on our projects from week to week. There are no rules; they can pick based on anything that they want, because those are just the fun challenges. At the end of the season, it's all about these are real houses that need real buyers and real offers, and the houses really do get sold. And the one that sells for the most determines the winner of the entire season. Drew has lost the last two seasons in a row to me, so that's why he's going all out trying to make sure that he wins this. I think three's a charm, so that's why I'm gunning for another win.
Drew: No, no, no, I love the sound of breaking that winning streak. This is go-time for #TeamDrew, I'm telling you that right now.
So at the end of the season, one of you is going to be crowned champion, but there are other winners, too…
Drew: Yeah, it's actually the community that really benefits. We've been working with Rebuilding Together for years. We love what they do, because the money that is donated to them, they put it right back into the local community. So the earnings from both properties, we don't take a dime; it all goes to Rebuilding Together.
Jonathan: Another amazing thing, too, we were able to donate $250,000 worth of new furniture from Wayfair to Habitat for Humanity's ReStore. So, in everything we do, we love the competition—and it's not even a malicious thing between us, we have a blast competing with each other—but all of this is to help the local community.
Drew, Jonathan has won the last two seasons; how are you going to mess with him this season?
Drew: I won the first two seasons, just to make sure we all know that, because Jonathan always forgets to tell that part. But anyway, for me, I'm going big. I tried to find a house that you would think you'd just need to tear down, it was that bad and I was willing to spend big and take on those risks in a money to be able to win big in the end. That's my strategy.
Jonathan: Drew, he plays cheap. He's a guy that'll throw sand in your face if he's playing volleyball against you. He took me out in the boat during one of the challenges. He took me on a pleasure cruise out into the middle of the bay. It was super foggy and he dumped me, fully clothed, into the bay and took off! It took me over an hour to get back to shore.
Drew: Whoa, whoa, whoa, whoa. I will tell you that the week prior, Jonathan came by spying on my house on a Ski-Doo, so I jumped down to freak him out and he pushed me out in the middle of the canal.
Jonathan: Yeah, because I was like one foot from his house, and he jumped on the Ski-Doo. I did not plan-
Drew: Can you tell that there's a sibling rivalry?
Speaking of siblings, your older brother J.D. always gets his hands in the middle of everything. What kind of ruckus is he going to cause this season?
Drew: Oh, he's always got an angle. Whether it's to embarrass us, he usually comes up with the wackiest of the challenges. We've got everything from one of the winning brothers gets to go and play with the penguins at Moody Gardens while the losing brother has to go and clean up all the penguin poop. Believe me, the penguin poop, it's very liquefied.
Jonathan: It's always fun to have J.D. in the mix because this is kind of like what we were when we were young as well. It's the three of us, thick as thieves, and getting into trouble.
Brother vs. Brother Season 5, Wednesdays at 9/8c beginning May 31, HGTV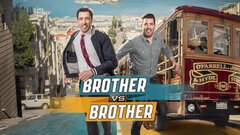 Powered by