My Obsessions: Veep's Tony Hale
Tony Hale, who plays Selina Meyer's (Julia Louis-Dreyfus) loyal body man Gary on HBO's Veep, shares his television habits and favorites.
The device I watch on:
I'm old school: my television.
The funniest person on TV:
Julia Louis-Dreyfus. And that's not just me buttering up my boss. I've seen firsthand what she brings to the table, and she constantly makes me laugh off and on set.
The only news show that matters:
Any news show that makes you think rather than reinforces your own opinions.
The show I miss most:
The Carol Burnett Show. It taught me the power of a good ensemble cast. I could watch Carol Burnett, Tim Conway, Harvey Korman, and Vicki Lawrence all day long.
My guilty pleasure:
MasterChef Junior. How does an 8-year-old know how to make coq au vin and I can barely boil rice? Oh, because I'm an idiot.
The show I'd like to guest star on:
Portlandia. So frickin' good…every single time.
My dream costar:
Any friend I grew up doing theater with. That would be fun.
Veep, Season premiere, Sunday April 12, 10:30/9:30c, HBO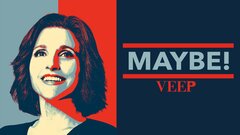 Veep
where to stream
Powered by