Jon Hamm Talks Mad Men, Typecasting, and More in Off Camera With Sam Jones Interview (VIDEO)
As Mad Men prepares to start its final chapter, everyone wants to pick Jon Hamm's brain.
On Wednesday's episode of Off Camera With Sam Jones, the series star, whose role as '60s ad man Don Draper on the AMC period drama catapulted him to household-name status, fields questions on his craft and career.
In the preview clip below, Jones asks Hamm what's most freeing about being done with the iconic role.
"All you want as a struggling actor is a steady gig and to have a job that has a life and has a continuation of some sort. That's hitting the jackpot" Hamm says. "But the other side of that is that then if it's successful in any real way or any culturally significant way, you immediately get typecast as that person, and that's all anyone ever wants to see you as."
[jwplatform C7iA1oS7]
He continues: "A lot of the things I got offered were these basically like kind of versions of Don Draper, versions of Mad Men. Every script that had a guy wearing a hat and smoking a cigarette was sent my way. And I was kind of like, 'Well I'm doing that eight months out of the year, why would I want to continue to do that on my downtime?' And very, very fortunately, I was able to branch out and do stuff that hews much more to my actual day-to-day personality, which is be funny and goofy, and laugh."
Those comedy opportunities included stints on 30 Rock, Unbreakable Kimmy Schmidt, and hosting Saturday Night Live.
The interview also features Hamm talking about how he got involved in acting, the hardships of extras and auditioning, and being part of the creative industry:
[jwplatform gwqkjHzC]
Other topics of discussion include his idea of family, generational responses to Mad Men, and more; not on the agenda, however, is any talk of Hamm's recent stint in rehab for alcohol addiction.
The documentary series helmed by photographer and director Sam Jones premiered March 18; in addition to Hamm, this season's guests will include Zach Braff, Don Cheadle, Kristen Bell, Dax Shepard, Rashida Jones, and Carrie Brownstein.
Off Camera With Sam Jones, Wednesdays, 10 p.m., DIRECTV Audience Network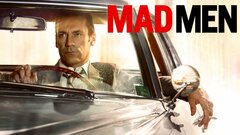 Mad Men
where to stream
Powered by