Exclusive: Drake Hogestyn Previews His Days of Our Lives Bombshell
Spoiler alert! Days of Our Lives' John Black—the feet-of-clay hero played by Drake Hogestyn—will soon be reeling from the news that he has a son he never knew about. That would be Paul Narita (Christopher Sean), the gay baseball player who came to town for surgery and ended up in the sack with the very married Will Horton (Guy Wilson), who happens to be John's grandson by marriage. Oy! Only in Salem. We sat down for a gab session with Hogestyn, one of the most beloved stars in soaps, to get the scoop on this wild paternity twist. And of course we had to ask the million-dollar question: Is there any hope for Jarlena?
Not only does John have a new son, the kid is Asian and he's gay. That's a lot for your character to process at once.
It's a trifecta! Yeah, it's really a lot to handle. One minute John is telling Paul to get his ass out of town. Then, the next beat is, "Oh, my God, you're my son!" There will be huge hurdles to overcome.
But one of them won't be Paul's sexuality, right?
It's not an issue and that's very healthy. John is very cool and accepting and that's important for the audience to see. The more we educate, the more we can fight the fear. This might have played out in a different way 20 years ago. In fact, even as recently as Will's coming out, the writers had one of our characters having a problem with it but those lines were removed from the script. You can't do that these days. Well, maybe you could have a villain be homophobic or racist, but you can't do that with someone like John. [Laughs] He has enough issues of his own! We don't need to pile it on. If anything, it's Paul who has a problem. He tells John to go piss up a rope. But John is determined to get to know his son and forge a real relationship.
Is John upset with Paul's mom, Tori, for not 'fessing up?
She claims that she tried. In fact, she came back to Salem to tell John about the child but, by then, he was devoting his life to God. Remember when John was a paranormal priest and that led us into the exorcism story? Well, the writers are working with that time period. It doesn't really track if you start putting the pieces together but, hey, you can sit at home and resist it, or just go with it. The audience will accept it if the actors play the truth.
Isn't the timing for all this pretty dependent on how old Paul is?
Yeah, and if he's already piled up enough stats to potentially be in the Baseball Hall of Fame one day, you gotta think he has a few years under his belt.
Half of Salem seems to know about this before John finds out.
And it's been right under his nose. He runs into Tori, whom he had a brief relationship with a long time ago, and she's Japanese. And Paul's Japanese. And they're the only two Japanese people in Salem, and John is still not putting it together. [Laughs] It's like there's a ton of bricks hovering over his head waiting to drop on him. He really is excited to see Tori. It's such a warm feeling he gets—she's like that girl from college that you went to bars and did crazy stuff with. She and John went their separate ways and he never imagined that those couple of nights they spent together had resulted in a child. I'm pretty familiar with the twists and turns of my character and there really wasn't a time when that would have happened because Tori was working for Stefano and John wasn't around him then. But we just gloss over that. [Laughs] Oh, well.
Days fans have overlooked crazier lapses in logic.
It reminds me of the time [former head writer] Jim Reilly had my character find the words "John Black 1985" written on a block down in the dungeon of Maison Blanche. I'm, like, wait a minute! Not possible! My character picked that name for himself when he saw it on a Vietnam War memorial—and that didn't happen until 1986!
So you're feeling good about this story?
I'm excited to roll up my sleeves and embrace a new side of John Black. My time as the Jason Bourne of Days is behind me and now I need to start playing "Dear Old Dad." My bible, while playing this role, has been The Bourne Identity. I keep a copy of it in my dressing room. In fact, it was in my briefcase right when they were telling me about Paul being John's son. I guess I can retire it now. This is a softer John Black and I welcome that. For a while there I was Robo John, Stefano's half-baked experiment, and then I was coming and going, disappearing off to Europe, and not having much to do. This gives me an opportunity to work on a regular basis and be a real part of Salem again. That's important to an actor, especially when you've been around the block like I have.
It also sounds like a grand opportunity to give your fans what they've been begging for—John and Marlena back together in a big, swoony, romantic way. Not just technically together like they are now. Will it happen?
When we played the blood-is-thicker-than-water thing, when John chose Brady over Marlena, he knew he was forsaking Marlena and that their relationship might not be recoverable. But now that I have this new son in town, it may just bring John and Marlena much closer. With Days about to turn 50, we're bringing the fans what they want—love, family, connection. Really rich, old-school stuff. And John's scenes with Marlena feel very familiar from a long time ago, but also different because now it feels so wonderfully mature. They've been through a lot together.
As a former baseballer, you must love that the writers have John coaching Little League. [In his twenties, Hogestyn was drafted by the New York Yankees, but left the sport due to an injury.]
And I really love that I wound up with a baseball-player son! John is very sad that he missed all those years where he could have taken Paul to a ballgame or out in the backyard to play catch, and it leads to some really emotional stuff. [Laughs] C'mon, give the guy a break! He doesn't remember the first half of his life, and now he's missed out on so much of the second half. Playing this situation reminds me of my own dad and me. I'd come home, put on the glove and play catch with him—we did that all our lives together. Sean and I just shot a scene—it won't air for another five months—where John tells Paul how much he regrets missing out on all those chances to play catch with him. And Paul says, "We can still do that, Dad." Wow. First I got the goosebumps, then the thing in the eye.
The thing in the eye?
Tom Hanks had it wrong in A League of Their Own. There is crying in baseball.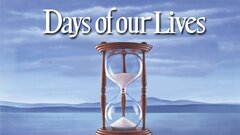 Powered by