Must-See Sporting Events to Start Your Summer Right
Soccer
It's a friendly match, so it doesn't count in the standings, but Carli Lloyd and the U.S. Women's National Team will be out to avenge their 2016 Olympics loss when they travel to face Sweden (June 8, 1:30/12:30c, ESPN2) in a warm-up for the four-team, round-robin Tournament of Nations hosted by the U.S. later this summer. Also, the U.S. Men's National Team takes on Venezuela in a World Cup Qualifying warm-up in Utah (June 3, 10/9c, Fox Sports 1).
Memorial Day MLB
ESPN celebrates the holiday May 29 with the New York Yankees at the Baltimore Orioles (1/noon c), the Washington Nationals at the San Francisco Giants (4/3c) and the Detroit Tigers at the Kansas City Royals (7/6c).
Stanley Cup Finals (Game 1, May 29, 8/7c, NBC)
The Pittsburgh Penguins return to the Stanley Cup Finals. The Nashville Predators are in the Finals for the first time. The best-of-seven series begins Monday with Nashville at Pittsburgh on NBC.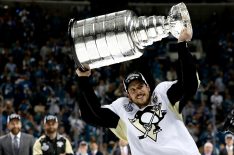 See Also
The defending Stanley Cup champion Pittsburgh Penguins take on the Nashville Predators in the 2017 Stanley Cup Finals on NBC Sports.
NBA Finals (Game 1, June 1, 9/8c, ABC)
The Golden State Warriors beat the Cleveland Cavaliers in 2015. The Cavs won the rematch last year. Who will win Round 3?
America's Cup Sailing (Challenger Playoffs, June 10–11, 1/noon c, NBCSN)
Bermuda is the site of the 35th America's Cup. Oracle Team USA won the last two editions, including a thrilling comeback win over New Zealand in 2013.
The Memorial Tournament (Final Round, June 4, 2:30/1:30c, CBS)
Jack Nicklaus's invitational tournament brings golf's best to Ohio's Muirfield Village Golf Club for a U.S. Open tune-up.
149th Belmont Stakes (June 10, 5/4c, NBC)
If Always Dreaming has a chance to win horse racing's Triple Crown, all eyes will be on the Belmont Stakes in Elmont, New York.
IndyCar Detroit Grand Prix (June 3–4, 3:30/2:30c, ABC)
The Verizon IndyCar Series comes off the Indy 500 with two days of racing on the road course at Detroit's Belle Isle Park.
French Open Tennis (Singles Finals, June 10–11, 9am/8c, NBC)
Champions of the year's second Grand Slam are crowned on the red-clay court of Roland Garros in Paris.
F1 Canadian Grand Prix (June 11, 2/1c, NBC)
Formula One won't have to set their alarm clocks to watch Lewis Hamilton and Sebastian Vettel at the F1 Canadian Grand Prix, live from Montreal's Circuit Gilles Villeneuve.