Swipe Right! 'Candy Crush' Gets a Game Show Makeover, Hosted by Mario Lopez
Candy Crush, The highly addictive cellphone game app familiar to commuters and commercial-avoiders everywhere, will now take up residence on the largest interactive screen imaginable. (The massive panel featured on this CBS newbie is potentially the biggest ever seen in this genre.) The popular pastime, which requires swapping adjacent "candies" to form a row of at least three matching items, is coming to life as a full-on primetime game show. And this time folks get to use more than their digits to make all the magic happen. (Harnesses! Ladders! Claws!)
Mario Lopez—already plenty busy with his regular gig on the syndicated entertainment news show Extra—is an emcee who knows a little something about game shows (he's previously competed on Hollywood Game Night, Celebrity Family Feud and Celebrity Name Game, to name a few). We spoke to the affable host about feeling the Crush, and why he tends to lose his voice from excitement.
What made you want to be a part of this version of Candy Crush? I've always been a game player, including Candy Crush. Everyone is familiar with it, but I don't think you need to have played it in order to enjoy the show. It's going to be incredibly exciting.
How do the contestants win? There's a preliminary round where you're getting points to see who is going to play in the finals. And then two teams will go head-to-head on vertical and horizontal screens. I lost my voice every show, I was getting into it so much.
You've been a contestant on shows like this lots of times. What's it like to finally be on the other side of things? We have real folks from all walks of life, all sorts of backgrounds. And I love meeting people from all over. They all feel like they're my friends, because they grew up [seeing me on TV].
What's your favorite part of filming the show? When people are close to winning and you hear what they're going to do with that money. It's a substantial amount [$100,000] and just being able to be a part of that is very cool.
Candy Crush, Sunday, July 9, 9/8c, CBS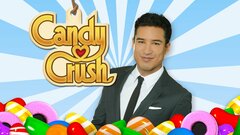 Powered by