Mad Men Museum Exhibit Takes Us Behind the Scenes
In the northwest corner of Queens, New York, on an unassuming street next to Kaufman Astoria Studios (production home of Orange Is the New Black and Nurse Jackie), lies the Museum of the Moving Image, an institution dedicated to the preservation of all things that wind up on all manner of screens. Their latest exhibit, "Matthew Weiner's Mad Men," is a paean to the AMC show about a self-destructive ad man in the 1960s. The show will air its final seven episodes starting April 5.
Mad Men creator Weiner and AMC granted MoMI impressive access to put together the exhibit, which includes two sets in their entirety, a plethora of costumes, and, most interestingly, a collection of Weiner's notes.
For those readers not in the New York City area (or who don't feel like going to Queens, because you're snobs), TV Insider offers this look at some of the exhibit's highlights. (Note: Your correspondent is not a professional photographer, and these were all taken with an iPhone 5.) The exhibit will run from March 14-June 14.
Donald F. Draper
Drink it in. Don Draper's (Jon Hamm) iconic suit from the pilot, backed by a collage commonly used in the planning stages of wardrobe design: Dapper men smoking, skinny ties, hats that served a function other than "douchebag signifier."
The Box o' Secrets
Don Draper Dick Whitman's Box of Secrets! Official court documents related to Anna Draper, dog tags, letters to his brother Adam, and also what looks like an old photo with Jon Hamm in a newsboy cap. All of which now-ex-wife Betty pored through in Season 3's "The Color Blue."
Don Draper: Real Person
But that was Dick's stuff. Don Draper has cool shades, a bank account at Chemical Bank (which sounds like a rather suspect bank, frankly), and one of those drivers' licenses from back when you didn't need a picture of yourself to prove who you were.
Betty Draper/Francis
The Many Lives of Betty Draper/Francis (January Jones) are on display through various costumes, including the large housecoat she wore when she had that thyroid condition that resulted in some weight gain. (Betty's expression on the TV screen in the photo above is purely a coincidence of timing, and not intentional or reflective of our feelings toward Mrs. Draper/Francis.) Bonus: Wee Sally Draper's (Kiernan Shipka) dress from when she was just a tot and not a sick-of-all-this-crap teen.
Home Sweet Kitchen
This is the first of two sets trucked in from Los Angeles: the kitchen of the Ossining, NY, Draper residence. Both sets had already been disassembled and put away into storage, so MoMI recruited Mad Men prop master Ellen Freund to help re-dress them after reconstruction. The kitchen is appropriately cozy and lived-in, with kids' art on the fridge and kind of creepy clown-shaped cookie jars.
"Zou Bisou Bisou"
Megan Draper (Jessica Pare) wore this dress during her rendition of "Zou Bisou Bisou" in the Season 5 premiere. It was a classic Mad Men moment, combining the beauty of the performance with the utter mortification coming in waves off Don.
Sterling Cooper Draper Whomever
And here's the second set: Don's SCDP office, complete with bar cart (Beef Eater, Smirnoff, Canadian Club) and rather impressive photorealistic backdrop. Pretty rad sound system, as well.
Costume Changes
Peggy Olson (Elisabeth Moss), Joan Harris (Christina Hendricks), and Pete Campbell's (Vincent Kartheiser) looks have all been updated over the seasons, not just in response to the changing fashions, but also the characters' social stature and internal states.
Peggy Olson
The difference between early-era Peggy and late-'60s Peggy is nicely illustrated by the Season 1 dowdy-yet-girlish dress on the left, and the more confident, mature number on the right. Amusing detail from the board in the background: One of the inspirations for her look was a pair of glasses and a red telephone.
Peter Campbell
Pete's hairline is actually what's changed most about him, but the collage behind him also includes poor Trudy's stylings and a couple doing a Charleston-esque dance together.
Joan's Desk
Savvy Joan would have a copy of Milton Glaser and Jerome Snyder's The Underground Gourmet on her desk (the yellow book in the upper right corner). As a member of Gen Y, your correspondent is old enough to remember all of these analog desktop items, but seldom sees them in the flesh, so this opportunity to gaze upon them from a respectful distance, while taking a photo of them with their technological replacement, is slightly surreal.
Stan Rizzo
Stan (Jay Ferguson) remains one of Mad Men's chillest characters, as evidenced by his sweet fringe jacket.
The Wall o' Products
Sterling Cooper and its various incarnations have worked on quite a large number of well-known brands. Bang-up job, guys!
The Mind of Matt Weiner
Weiner's a brilliant showrunner with occasionally hard-to-decipher penmanship. These are a sampling of the man's notes, spanning seasons and stationary (note the Sopranos page). Some of these scribbles are thematic: "Alienation/Who am I?" "Drama of life. Pain of existence. Reality of limited existence." Others are potential lines: "Betty: Don't raise your voice." There's also an enigmatic shout-out to Hillary Mantel's Wolf Hall, the historical novel charting the rise of Thomas Cromwell in 16th-century England (directly to the right of the yellow legal pad).
The Writers' Room
Along with the aforementioned sets, MoMI trucked in the actual Mad Men writers' room from Los Angeles, breaking it down and reassembling it, down to the weird knickknacks of dubious purpose that populate writers' room tables everywhere. This is part of the breakdown for the last episode of the first half of Season 7, "Time Zones," and judging by the handwriting, whiteboard duties were assigned to someone other than Weiner.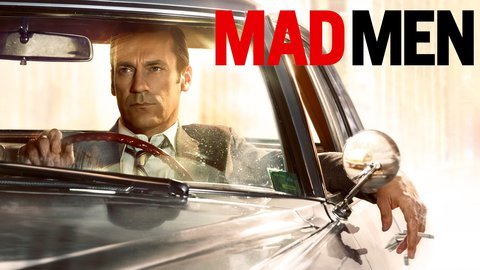 Mad Men
where to stream
Powered by