'Empire' Season 3 Episode 15: Lyons Protect Their Cubs (RECAP)
Civil Hands Unclean
Season 3 • Episode 15
On last week's episode of Empire, we saw Cookie (Taraji P. Henson) and Angelo (Taye Diggs) break up. It was sad to see but Cookie realized that she's still in love with Lucious (Terrence Howard). In fact, Cookie was about to tell Lucious why she and Angelo broke up but Giuliana (guest star Nia Long) popped in to interrupt. Cookie is definitely not happy with that woman in her recording studio.
Lucious is working with Snoop Dogg (guest starring as himself) in hopes that he's up for investing in his new album. Snoop wants Jamal (Jussie Smollett) to be on the team but Lucious isn't as thrilled about the idea. Somehow Lucious sets aside his ego and offers Jamal a spot on the new Inferno album. Jamal declines his dad's offer, telling him he'll continue to work on his When Cookie Met Lucious album.
I see you, Angelo. You want to play with the big dogs now? Angelo recruits help from his fire marshal friend to shut down Empire's club for the night. Lucious lets Angelo win this round peacefully and gives the guys another round of drinks.
Uh oh. It seems Hakeem (Bryshere Y. Gray) and Tiana (Serayah) are turning their relationship into a complicated triangle by adding in Tory (guest star Rumer Willis). This sounds like a train wreck. Someone is going to get hurt.
Angelo better count his blessings. Lucious finds out that Angelo is jeopardizing his Vegas deal and wants revenge. He wants to take care of things his way by killing Angelo.
When Cookie tries to talk Angelo out of messing with Lucious, Angelo's mom Diana (Phylicia Rashad) shows up. She tells Cookie that when her family wants to fire back, her whole family will burn to the ground. Dang! Diana is another Leah Walker (Leslie Uggams).
Andre (Trai Byers) and Jamal think that Jamal can speak with Angelo to make peace. Jamal meets Angelo and hands him a $5 million check for his scholarship fund. Hopefully this keeps things calm for a while.
Hakeem is finally stepping up to the plate as Bella's daddy. He wants to change her birth certificate so that it says his name on it but Lucious doesn't think he's ready for it. I feel like I'm watching an episode of Teen Mom with Jenelle and Barbara fighting about Jace.
I never thought I'd see these two working together again. Both Lucious and Jamal were having issues with finding the perfect song, until they united. Jamal sings on Lucious' track to bring another smash hit song.
As Mama Walker shouted out, "Thank ya, Jesus!" it looks like Anika (Grace Gealey) is leaving the Lyon family. At a family lunch gathering, Lucious hands Anika divorce papers. The papers include a $25 million settlement agreement. Take it and run while you can, Anika.
I'm not sure what turned Lucious into Santa all of a sudden but he gives Hakeem a few gifts too. He gives him his X Stream channel back and changes Bella's birth certificate to have Hakeem's name on it.
Just as everything was peachy, Lucious gets some unexpected visitors that ruin the lunch. Child Protective Services shows up and tells Lucious they have received reports of child endangerment. They also have an order to temporarily remove the child, Bella.
Lucious is forced to hand over Bella to the authorities. He thinks Angelo is responsible for this, which would make a lot of sense. Angelo has now started the real war. You don't mess with someone's family, especially when that family is the Lyon family.
Empire, Wednesdays, 9/8c, Fox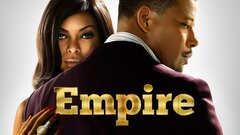 Empire
where to stream
Powered by