What's Worth Watching: There she is, Miss…Intergalactic?
Face Off, "Miss Intergalactic" (Tuesday, March 10, 9/8c, Syfy)
Leave it to the constantly awesome but woefully underrated reality competition Face Off to come up with an episode as original as itself. For seasons, FO has been shining a light on the eye-popping talents of make-up effects artists, as well as the on-point hosting skills of McKenzie Westmore, who knows from freaky latex faces, being the daughter of Oscar and Emmy-winning makeup artist Michael Westmore (Mask, Star Trek). Tonight, both Westmores play a role in helping the remaining artists prep for a wildly clever challenge that finds them turning gorgeous models into alien goddesses for the inaugural Miss Intergalactic Pageant. Helping along with the judging is 2013 Miss Universe, Gabriela Isler, who probably saw some nutty stuff during her sash-and-smile days, but probably nothing as out-of-this world as what the gang sends down the runway this evening!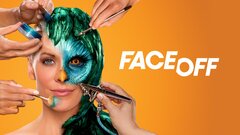 Powered by