What's On: 'Fargo' Goes Haywire, and 'SVU' Rips from the Fox News Headlines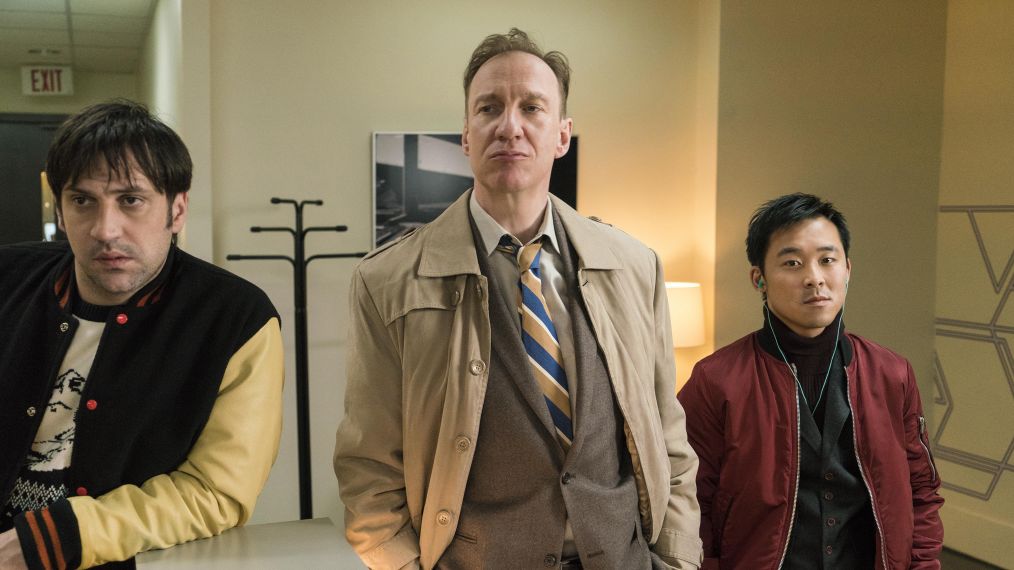 Fargo (10/9c, FX): The quirky crime drama escalates the tension between brothers Emmit and Ray Stussy (Ewan McGregor in a juicy dual role), culminating in a showdown with Emmit's #2 Sy (Michael Stuhlbarg), who you most definitely do not want to dismiss as a mere "errand boy." Although even he is cowed when the creepy Varga (David Thewlis) infiltrates Emmit's workplace. Back at the precinct, Gloria (Carrie Coon) is not getting along with the new boss (Boardwalk Empire's Shea Whigham) as she tries to focus on who killed her stepdad, and why. Can't wait for these separate narrative paths to collide.
Law & Order: Special Victims Unit (9/8c, NBC): 18 seasons in, SVU still delights in the classic Law & Order "ripped from the headlines" tradition, and if this week's storyline echoes the toxic work environment for women at a certain cable news network, it's purely intentional. As usual, SVU pushes the envelope a bit further, in a case involving a news anchor (Bonnie Somerville) who goes on air to accuse her boss of rape. The ensuing investigation forces other employees to risk their jobs by speaking truth to power.
black-ish (9/8c, ABC): In a full hour of back-to-back episodes, Rashida Jones (Angie Tribeca) guests as Bow's (Tracee Ellis Ross) sister Santamonica, a reality-TV personality who has little in common with her doctor sibling. Then it's time for the Johnsons to face the fact that Zoey (Yara Shahidi) is about to leave the nest, when she's accepted into colleges far from home.
The Handmaid's Tale (Hulu): Elisabeth Moss is mesmerizing as Offred, a "handmaid" in a nightmare society of female oppression familiar to readers of Margaret Atwood's classic dystopian allegory. Offred harbors subversive thoughts of rebellion against a society that enslaves fertile women to act as "two-legged wombs" amid a worldwide plague of barren sterility. This Tale is Hulu's strongest original drama series to date.
Inside Wednesday TV: The second season of SundanceTV's Gomorrah (10/9c), the gripping mob drama from Italy, picks up in the wake of last season's violent climax with a two-hour premiere, as rivals clash to seize power over organized crime in Naples. … Kristen Wiig, Bob Odenkirk and Cheryl Hines are among the guest stars on TV Land's show-biz satire Nobodies (10/9c), in which the title trio (Larry Dorf, Rachel Ramras and Hugh Davidson) find themselves on the outside looking in during Emmy weekend.