Shemar Moore's Derek Returns for a 'Criminal Minds' Cliffhanger Season Finale
It's been just 13 months since Shemar Moore's Derek Morgan walked off into the sunset or, really, the Behavioral Analysis Unit's elevator on Criminal Minds. But the actor (who just wrapped filming the action pilot S.W.A.T.) was still game to reprise his role for this year's cliffhanger finale involving the BAU's serial-murdering longtime nemesis Mr. Scratch (Bodhi Elfman). We talked to Moore about the killer plotline behind his return.
What brings Derek (and you) back? Morgan gets an eerie text that's supposed to be from Penelope [Kirsten Vangsness] at the BAU, whom he still calls his "baby girl." But he knows his baby girl so well that he can tell something's off about it. He thinks it's a setup and really wants to make sure the team doesn't fall for a trap. So he comes back with info that could help take care of Mr. Scratch for good. As for why I'm back, I never forget where I came from.
See Also
The showrunner spills what she already has in mind for the 13th season (and 300th episode!)
How did it feel to return? Well, Derek reunites with Penelope, and me with Kirsten, so we got to flirt again. All the chemistry came back. I'd been gone a year, and within 15 minutes of being there, it was like it had only been a week.
Could this lead to more Derek sightings in the future? This is only one episode, but it's a big finale. I've already told my fans: The elevator doors close, but they can always open up again.
Criminal Minds, Season Finale, Wednesday, May 10, 9/8c, CBS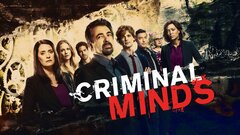 Powered by