Botched Nuptials! Plane Crashes! A Look at the Action-Filled 'Scorpion' Season 3 Finale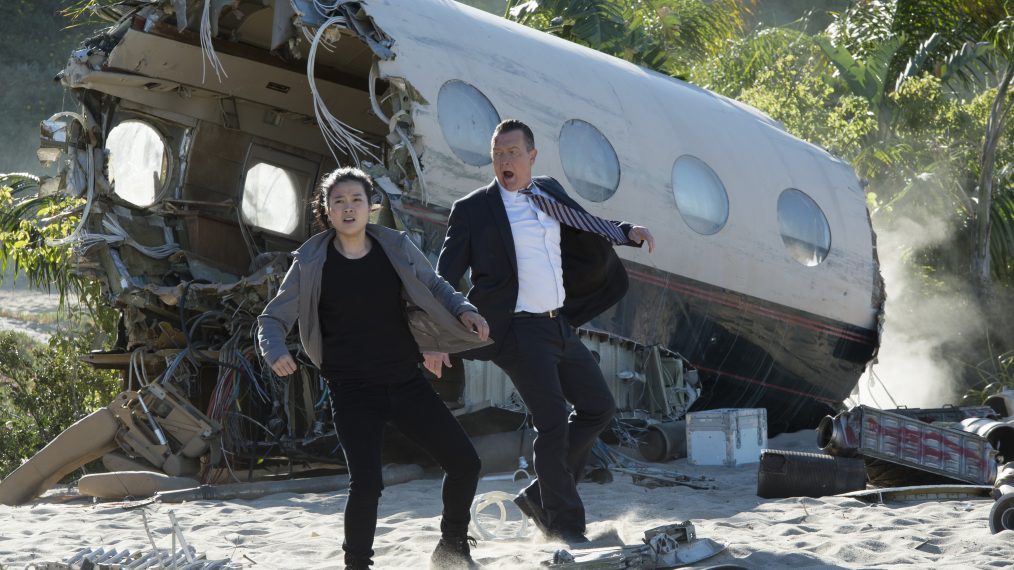 A botched wedding. A plane crash. There's more action than ever in the final episodes of Scorpion's third season. First, nothing goes according to plan in the lead-up to the nuptials of star-crossed couple Happy (Jadyn Wong) and Toby (Eddie Kaye Thomas) on the May 1 episode of the CBS drama. The mechanical engineer and behavioral scientist have planned their big day for much of the season, but when the gang's routine job—to put out a tunnel fire that's endangering a nuclear storage facility—goes awry, questions arise about whether the wedding can really go forward. "It is the perfect storm: Anything that could go wrong goes wrong," Wong hints.
But as usual, the group bands together to make things right. "When it comes down to it, they're very sweet with each other and they are a real family," says executive producer Nicholas Wootton.
Changes to the wedding even impact Toby's attire—and give a tip of the hat to another character played by Thomas. "He's wearing the outfit Finch wore to prom in American Pie," executive producer Nick Santora reveals. "Walter [Elyes Gabel] asks him about the tux and Toby says, 'This is the one I wore to my high school prom. It still fits. I went stag, but I had a great time.' From the Keds sneakers to the white dinner jacket to the tie, we replicated the exact outfit. It's fun as heck to see him in it."
See Also
'The ceremony happens in a very special place in a very special way,' Eddie Kaye Thomas teases.
Unfortunately, not everyone is in the mood for music and flowers. Paige (Katharine McPhee), who was recently fired as the team's social handler, has an awkward reunion with Walter. Being around Paige prompts "a realization in terms of what he has to tell her [about his feelings]," Gabel notes of his socially challenged group leader. Teases Santora: "Like most scientists will tell you, sparks cause a chain reaction."
Regardless of what happens when Toby and Happy ultimately walk down the aisle, "the wedding won't be the apex of the season," Thomas says. "Just when you think the most exciting thing has happened, there's more." In fact, nothing could prepare the team for what's in store in the May 8 and 15 episodes: They crash onto a tropical island on their way to a new job.
"We've never seen them stranded on a desert island before, struggling to use their wits and keep their relationships sane," Wootton says. "It's the Scorpion Family Robinson! They have water, they're cooking, they're fishing. They're at each other's throats and driving each other crazy." Adds Santora: "They can physically survive. They cannot mentally survive."
The characters find their own ways to deal with the traumatic situation—and some are more extreme than others. "Sylvester is going full Colonel Kurtz [Marlon Brando's character from Apocalypse Now]," Ari Stidham says of his normally levelheaded mathematician. "He goes crazy. But he's necessary to the group's survival and rescue, so they have to deal with his new eccentricities." But as for federal agent Cabe (Robert Patrick), Patrick predicts he'll fare the best. "I think he's got to be aware of what he's got to do," he says. "Don't forget he's a Marine."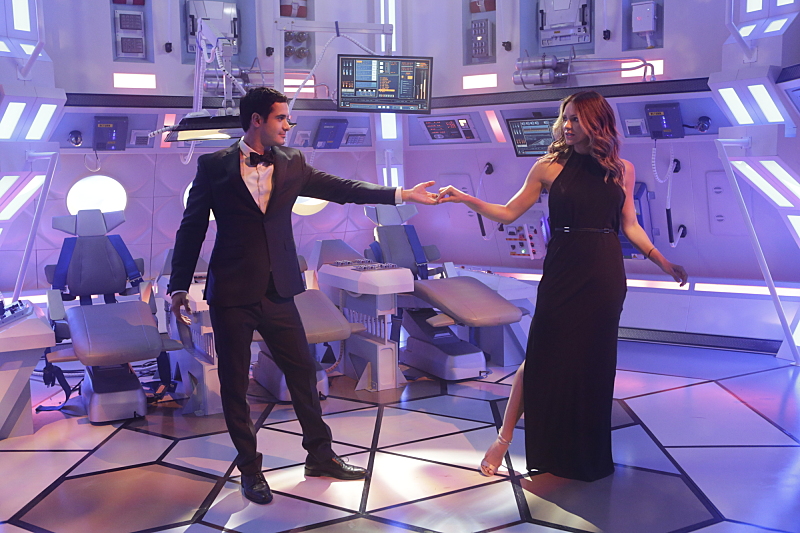 See Also
Plus, how long will Paige (Katharine McPhee) keep her big secret from Walter?
And what occurs on the island sets things up for Season 4. "I would say the biggest change next season will be what happens between Walter and Paige in the last 10 seconds of the season finale," previews Santora of the vital moment. Will their relationship finally take flight? Or will it crash and burn?
Scorpion, Season Finale, Monday, May 15, 10/9c, CBS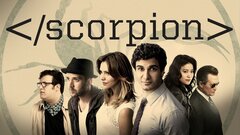 Powered by