'America's Got Talent': Chris Hardwick, DJ Khaled Announced as Season 12 Guest Judges
Tyra Banks won't be the only familiar face on the upcoming 12th season of America's Got Talent. The Wall host Chris Hardwick and music producer/Snapchat superstar DJ Khaled will join regulars Howie Mandel, Mel B, Simon Cowell, and Heidi Klum as guest judges in July.
Hardwick and Khaled are just two of four guest judges expected to appear on the latest installment of NBC's hit competition show. The duo will first appear in mid-July to help the AGT judges decide which acts move on to the competition. The Golden Buzzer will also be in play, allowing the judges to send one act straight through to the live shows.
America's Got Talent showcases unique performers from across the country, including dancers, singers, comedians, ventriloquists and more, all vying to win a $1 million prize. Singer Grace VanderWaal claimed the number one spot—and the prize—last summer. She released her first EP, "Perfectly Imperfect," in 2016.
Filming of the new season is already underway. No word yet on whether Khaled will yell "DJ KHALED!" unprovoked.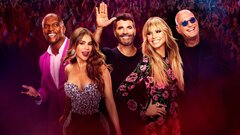 Powered by