The Stars' Secret Weapon on 'Lip Sync Battle' Is Choreographer Danielle Flora
It just came full circle for Lip Sync Battle choreographer Danielle Flora. The dancer-turned-choreographer credits her career to Ricky Martin, with whom she shimmied at the 1999 MTV Video Music Awards. A Saturday Night Live director caught the performance and called on her to help Chris Kattan spoof Martin's moves, which led her to a new career choreographing comedy bits for SNL, The Tonight Show, Inside Amy Schumer, and Lip Sync Battle, whose return to Spike last Thursday night featured Kate Upton and Ricky Martin.
That first SNL gig "really changed my life," says Flora, a former Knicks City Dancer who, until that moment, hadn't choreographed much since she busted out her cassette player and directed dances for her grade-school pals to perform back in New Jersey. "Who gets to choreograph Lady Gaga and Madonna in the same sketch? I remember thinking, 'How did this happen?'"
As choreographer for Lip Sync Battle, she's worked with stars with varying levels of rhythm, from Channing Tatum, Julianne Hough and Beyonce ("She knew what she was doing," Flora laughs) to Ben Kingsley, Tim Tebow and Randy Couture. "From week to week in my life, I never know what's going to happen," she says. "Every week, it's like having a different job."
TV Insider chatted with Flora about what goes on behind the scenes at LSB, how she gets the most out of her performers, and her favorite—and most surprising—LSB episodes.
Is comedy choreography more challenging than straight choreography, or is it just about evoking a different emotion or reaction—in this case, laughter?
For straight choreography, it's about the lyrics, the words. I really believe in thinking through choreography and making it make sense, and with comedy, it's the same way. It's looking at the script, or in the words of the song, and finding the funny in there, enunciating what they're saying, giving an exclamation point for whatever joke they're trying to land.
Some of the routines are direct homages to the originals, like Joseph Gordon-Levitt doing Janet Jackson's "Rhythm Nation." But do you prefer putting your own spin on them?
For Joseph Gordon-Levitt, we brought in the original choreographer for "Rhythm Nation." We didn't want to mess it up. We wanted to teach the dance and teach it correctly and that the right intentions are all there. But I usually like the more creative stuff. I like to be as open-minded as possible and not necessarily go off the video.
How collaborative is the choreography with the celebrity du jour?
It really depends on the celebrity. I really believe in making people feel as comfortable as possible when they come in. I've created this routine from top to bottom and they watch it. This is how I envision it being, and then we go from there. We change and we edit and we add, so we get so that they're 100 percent comfortable. Nine times out of 10, we present it to them and they're in love.
You've just talked a lot about being comfortable. Is that the secret sauce of the show?
I think so. A lot of the stuff that I spent most of my career on is working with actors and comedians who don't have a long history of dance in their background. The way you get the best out of anyone is to make them feel comfortable. I'm a big cheerleader. I want you to feel amazing. I want you to walk away from Lip Sync Battle thinking this is the best show from the beginning to end.
Here I'm thinking that they're all performers and, to some extent, they're all familiar with choreography and they should be able to move well. Is that a grossly ambitious assumption?
[Pause] Kind of. [Laughs] But what's amazing, usually the actors are comfortable in their own skin. That's half the battle, diving in and believing and not judging themselves. Maybe they're not great right at the beginning. They don't hear the rhyme and they can't hear that beat, but they act through it, hit the beats here and here and here, and still look like they're part of the choreography.
Will you spill the beans — who was the most awkward celebrity?
[Laughs] If they come in with an open heart, they end up looking great.
Which celebrity shocked you the most by his or her level of commitment? Not necessarily talent, but commitment to the routine?
[Marvel's Agents of S.H.I.E.L.D. star] Clark Gregg. I presented "Toxic" to him, thinking he's not going to do any of this choreography. He was like, 'I want to learn every single step, every single one.' He rehearsed and rehearsed and he was so fantastic and learned it all. He totally believed in himself. [Community's] Jim Rash, he did the same thing. He threw himself into every single eight-count. I didn't know what to expect. I had no idea they would be that good and that willing to work. They killed it.
What's the routine you're most proud of? If you could only put on your resume?
Oh my God! [Shreiks] Ricky Martin and Kate Upton, that was a pretty amazing show. I'm very proud of the Ricky Martin number ["Footloose"], so I guess I would say that one. Hard question!
https://www.youtube.com/watch?v=8cnO23YPNnE
Any upcoming shows we should be looking forward to?
We did a fantastic one with the Stranger Things kids. They're amazing. They were so impressive. Their schedule is insane, and they showed up on point. They knew exactly how to do it. They knew their lyrics. They loved their songs. They were so professional for young kids. They just really were amazing to work with. That might be my favorite. I don't know!
Lip Sync Battle, Thursdays, 10/9c, Spike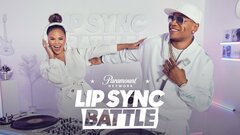 Powered by