Monster Magic: How the Surreal Creatures on Man Seeking Woman Come to Life
What do a Japanese penis monster and Adolf Hitler have in common? They're both part of a day's work for Paul Jones, the creature creator and head of the prosthetic make-up team on FXX's Man Seeking Woman.
The surrealist comedy follows the adventures of newly single Josh Greenberg (Jay Baruchel) as he traverses life, love, and everything in between. That "everything in between," however, includes getting tortured by his mom for information on his girlfriends, accidentally leaving his penis at a night club, and encountering a host of creatures – blind-date trolls, sex aliens – that stand in for the horrors and humor of dating.
Bringing those creatures to life falls to Jones, whose 26-year career has included work on movies The Bride of Chucky and Resident Evil as well as creating body doubles of Tatiana Maslany on Orphan Black.
"Normally my direction is 'Make it gory' or 'Make it scary,' so it's really nice to hear … 'we want it to be funny,' " Jones says. "To create a laugh instead of a scare is a whole new experience."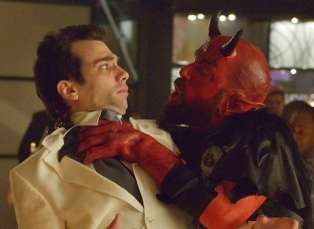 Making the monsters entails a team of seven people, and sometimes multiple puppeteers, with Jones masterminding the way. "We really lean on him a lot in the writer's room," showrunner Simon Rich says. "We say, 'Will this crazy premise work? Paul Jones will figure it out.' … [A] lot of the most creative stuff you see on the show comes from his mind."
In tonight's episode, Jones' handiwork can be seen in the demonic horns and tail sported by guest star Brett Gelman and the zombie-like creatures Josh and his chick-magnet best friend Mike (Eric Andre) encounter at a destination wedding in Hell. We asked Jones to give us the backstory on the rest of the makeup magic he's worked throughout the season:
.
Gorbachaka
(Episode 1, "Lizard")
What?! When Josh's sister Liz (Britt Lower) sets him up on a blind date, he doesn't expect Gorbachaka, who physically attacks him when he accidentally drops the T-word (ahem, troll.)
How? Gorbachaka is actually a custom-made body suit with Toronto-based actress Raeanna Guitard inside. Jones and his crew made casts of her body, face, and hands, sculpted the makeup on top of them, and then duplicated the sculpture into a foam rubber that was applied to her skin.
To complete the effect? "We put contact lenses in her eyes and dentures in her mouth to make her teeth look really gnarly, but all her brow, and smile, and body movements, that's just her essentially wearing a prosthetic makeup."
How long? Roughly two and a half weeks.
Fun Fact: Lady G was a bit of a mix and match. "I did, like, four different renditions of Gorbachaka's face in a digital concept design on a computer in 2D, and then Simon took elements of each face and I combined them into a finished design," Jones says.
---
Adolf Hitler
(Episode 1, "Lizard")
What?! The 126-year-old former dictator is Josh's ex-girlfriend Maggie's new beau, whom she affectionately refers to as "'Dolphy."
How? Comedian Bill Hader (who is 90 years younger than the character) donned the industry standard silicon gel for his prosthetic makeup. "It's very pliable and photographs very much like the skin," Jones says. "It's best used when you're doing human skin or like, old-age makeup"
How long? About six days.
Fun fact: Hader didn't have time to pop up to Toronto for his body casting, so Jones and his team acquired an old cast from his Saturday Night Live days. "Luckily, he hadn't aged that badly," Jones says.
---
The Hand
(Episode 3, "Pitbull")
What?! Josh's right hand has some choice things to say about their, er, repetitive intimacies before popping off and leaving him.
How? For this one, Jones and his team created three puppets: two eyes and mouth before digitally placing them into Jay's hand. "The right eye and the left eye are totally separate puppets, so that one could blink and the other could move around," Jones explains, "then the mouth was like a sock puppet made in a flesh-like material." Each element was photographed separately and then digitally combined by the show's visual effects supervisor Brendan Taylor.
How long? Three to four days.
Fun fact: Talk to the hand! That nasally voice belonged to none other than Sarah Silverman. "Which I thought was so perfect," Jones says. "You couldn't have thought of anybody better."
---
Tanaka
(Episode 5, "Sizzurp")
What?! A friend of Whitney (played by Friday Night Lights' Minka Kelly) from her study-abroad days also happens to be a Japanese penis monster that speaks only by repeating his name (and is voiced by Portlandia's Fred Armisen).
How? The foam latex creature is "probably the craziest thing I've ever built," according to Jones. There was a costume performer inside controlling the main arm tentacles, but the majority of the tentacles were cable-controlled. Jones gave Tanaka's big eyes expression, totaling the count to seven puppeteers. "It was actually a three-part costume," Jones explains. "There was pair of legs that was essentially like, waders for a fisherman, except they were made of penises. And then the body went over [the puppeteers] head like a life preserver and rested on his shoulders, and Tanaka's head fit down into the neck hole of that."
How long? A mere six weeks. "It really was a sprint to the finish in the end, but we pulled it off," Jones says.
Fun fact: Tanaka's lower tentacles, which are all-penis, were pixilated for the episode, something that has never happened before to Jones. But what about his head? "There were certain considerations made for his head that we didn't make for his arms, and I think the audience will have to see what subtle difference we made to not have his head pixilated."
---
Sex Aliens
(Episode 6, "Gavel")
What?! The moment Josh makes his relationship official with Kayla (Anna Konkle), time freezes, and Sex Aliens from the Planet Sex make an appearance.
How? In addition to white wigs and contact lenses, make-up designer Julia Valente and Jones created a two-layer paint scheme with white paint, and a silver powder on top, complete with very subtle blue highlights. Jones also ended up making nipple covers for, "A completely streamlined, Barbie-doll kind of breast," he says. "It was an aesthetic choice, but it was also a rating's issue as well. We knew we wouldn't be able to show nipples on camera, but they also wanted to have them topless, because what's the point of a Sex Alien if it's not going to be topless?"
How long? About three hours to prepare each model for shooting.
Fun fact: Jones initially had a very different idea for the Sex Aliens' look: "A very kind of 50s, bubblegum pink, blue-skinned, little antennas – very much like an old episode of Star Trek."
Man Seeking Woman, Wednesdays, 10:30/9:30c, FXX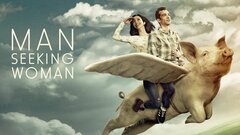 Powered by