Former Child Star Christine Lakin Dishes on 'Hollywood Darlings'
Grownup child stars Jodie Sweetin (Full House), Christine Lakin (Step by Step) and Beverley Mitchell (7th Heaven) step back into the limelight in Pop's scripted reality series Hollywood Darlings, premiering Wednesday.
The women's funny, semiautobiographical adventures examine what life is like when the spotlight fades (although all the women still work as actresses; notably, Sweetin stars in Netflix's Fuller House) and real life begins. And in between hilariously relatable misadventures at wellness retreats and the ego-busting rite of passage that is minivan shopping, the women's other child-star friends and former TV families pop up to give advice, reminisce and share new adventures.
TV Insider caught up with Christine Lakin, who played tomboy Al Lambert on ABC's Step By Step from 1991-1998, to chat about her life post-child stardom and her hilarious new series with pals Jodie and Bev.
"Being in the business for so long and having these friendships is a weird sorority. It's a weird sisterhood," says Lakin.
The series follows the women as they embark on wacky adventures, and shows how—despite their fame (which leads to a few endearingly bizarre situations)—they live lives very similar to many women in their thirties.
"We also show the other side of Hollywood and just how very normal our lives are," Lakin points out. "Yet we had completely abnormal childhoods and existences."
Hollywood Darlings also allows the actresses to show off their natural personalities, which differ from the roles and characters that they're best known for.
"Jodie is very wry," reveals Lakin. "She is very sarcastic, a little on the dark side. That's what I love about her. Beverley is very Type-A. She is the girl that I called when I was having a baby and I was like, 'I don't know what I'm doing. How many strollers do I actually need?' She's like, 'Okay, let me give you the rundown: This is the best one, but if you want to go to Disney World this is the one you need. If you want to go on vacation with your family, I suggest this.' Also, I feel like she has a spreadsheet for everything. She is the ultimate mom."
Lakin adds with a laugh, "I'm the most free-spirited of the bunch. I'm the girl that's been doing yoga for fifteen years. I would go do a meditation retreat. I have tried different juice cleanses and they all think I'm crazy."
The three women are masters of self-deprecating humor, and Lakin is especially game to poke fun at herself, explaining that a moment in series—where Sweetin and Mitchell are recognized as celebrities, and Lakin isn't—was borne out of real life.
"I don't know what that is, frankly. We laugh about it because it's so a part of us…if the three of us go to lunch, number one, Jodie will get recognized. Of course, Fuller House is so big right now. Then they look at Beverly and they do the, 'Oh! Oh! Oh my, hold on. Oh my God!'
"Then, literally—I cannot tell you how many times it's happened—they're like, 'Will you take a picture?' So, we were like, we have to put this on the show. It's too good. It's too funny. I don't know if it's that I have a chameleon-like face or that I've changed my hair color so many times. I find it hilarious."
But despite Lakin not getting equal fan recognition as her starlet pals, the actress and producer has a long list of post-childhood credits, most notably as a successful voice-over actor. ("Thank you so much for pointing that out," the actress quips. "You're the only one.")
Lakin shares that while much of the comedy's outrageous action is heightened, the women's lifelong friendship—forged during childhood auditions and acting classes, and galvanized by their shared experiences—isn't.
"We have this shared history of what it was like to grow up on television. It's a path that we will never escape, nor do we care to."
Hollywood Darlings, Wednesdays at 8/7c beginning April 12, Pop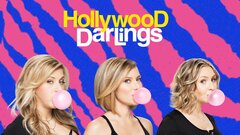 Powered by