'Feud: Bette and Joan' Fan? Here's a Joan Crawford Movie Marathon Worth Staying Up For on April 21
Joan Crawford and Bette Davis wrap up their Feud on FX on April 23. But you can catch Crawford in a minimarathon of pre–What Ever Happened to Baby Jane? flicks on TCM Friday, April 21, starting at midnight.
Humoresque (1946)
This was Crawford's follow-up to her commercial and critical success Mildred Pierce, which won her her sole Academy Award for Best Actress. Here she plays an older woman and patroness to struggling violinist John Garfield, stuck choosing between his music and the woman he loves.
See Also
Oscar winner Catherine Zeta-Jones on playing glamorous (and still living) Hollywood legend Olivia de Havilland in FX's 'Feud'.
Autumn Leaves (1956)
In another older woman–younger man story, Crawford falls for Cliff Robertson (above). It's helmed by Baby Jane's director, Robert Aldrich.
Queen Bee (1955)
Crawford is a Southern belle with a mean streak as wide as her Georgian mansion. She's unhappy when anyone else around her manages to be happy, which means everyone feels her sting.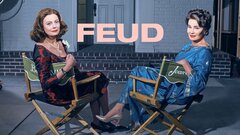 Powered by