'Late Late Show' Host James Corden Lists the Rules of Being a Good 'Carpool Karaoke' Guest
A little over two years after The Late Late Show With James Corden debuted "Carpool Karaoke," the segment has grown to be one of the most recognizable aspects of the late-night series. With guests ranging from powerhouse songstresses like Adele (whose 2016 spot has more than 150 million YouTube views) and Mariah Carey to pop sensations like Justin Bieber and Bruno Mars (above, with Corden), it seems like everyone wants to jam with Corden.
The bit has also helped grow The Late Late Show's digital presence. The show's YouTube channel has reached 10 million subscribers, and 19 of the top 20 viewed videos on the channel are from "Carpool Karaoke." (The series has also spawned an upcoming spinoff for digital service Apple Music.)
But what makes a good "Carpool Karaoke" guest? Corden shares the keys to being a great costar.
1) First of all, participants have to be "big stars," Corden says. "The truth is, as a segment, it's kind of bulletproof in a way. It's humanizing. All people want to see is [the stars] in an environment you know and recognize yourself." (There's nothing more recognizable to most viewers than the inside of a car!)
2) In addition to name recognition, they have to have career longevity. "They've got to have hits," Corden points out. "They have to have enough songs to fill 7- to 10-minute bits." However, Corden has made exceptions to this rule: Former First Lady Michelle Obama had her own segment (with guest Missy Elliott), and recently NBA superstar Stephen Curry appeared in a "Carpool Karaoke" sequence busting out tunes from Disney's Frozen and Moana.
3) The other important component? "I have to be a true fan of them," admits Corden, who has Ed Sheeran lined up for an upcoming episode. "I think you can tell if I'm not, you know?"
The Late Late Show With James Corden, Weeknights, 12:37am/11:37c, CBS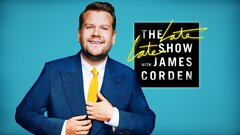 Powered by