5 Things to Know About 'American Gods' (and Watch Its Latest Trailer)
Starz released the a new trailer on Wednesday for its highly anticipated new series, American Gods. The release follows the trailer's world premiere at South by Southwest (SXSW).
Will American Gods be the next great adaptation that Starz turns into an international phenomenon, à la Outlander? "It's Clash of the Titans by way of The Grifters," explains executive producer Bryan Fuller, who developed Neil Gaiman's beloved 2001 book of the same name into a TV show with Michael Green (Blade Runner 2049).
The ambitious series follows convict Shadow Moon (Ricky Whittle) upon his release from prison and, desperate for a job and purpose in life, he starts working with con artist Mr. Wednesday (Ian McShane). Aside from a few cons, the duo's mission quickly reveals itself to really be about finding and recruiting dormant gods to help fight in an impending battle versus newer, more powerful deities. Fuller and Green offered up five vital things to know before jumping into American Gods.
1 You don't have to know Gaiman's book. Not familiar with the names Shadow Moon, Bilquis, Low Key Lyesmith or Mr. Wednesday? No problem, says Fuller. "We really did make the show for people who haven't read the book." However, that doesn't mean he and Green have forgotten those passionate fans of Gaiman's opus. Quite the contrary. "We hope they come and check it out," Fuller says. "We feel that we've honored the book as fans of it ourselves, but we want more than just them to be able to come and appreciate it."
2 Immigration stories factor in a big way. Each episode of the series begins with an immigrant's arrival to our country, a key component of Gaiman's book. "There are these short tales that appear in between chapters of Shadow's stories that tell of these beautiful coming-to-America moments and how these Gods came to be here," Green says. He also admits adapting these often-larger-than-life stories for television was daunting, but "we loved them and felt that they were essential to the fabric of the show, and so we wanted to see them."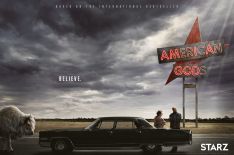 See Also
Ready for the Starz adaptation of Neil Gaiman's 'American Gods'?
3 The special effects dazzle but don't overpower. The impressive visuals are vital to the American Gods fabric, but overshadowing the main plot was never an option. "The focus is on the characters and stories," Green says. "Special effects are spices, not meat, and you can't just eat a bowl of cinnamon." That said, Fuller insists spectacle is not a bad word. "I think one of the balancing acts is maintaining authenticity of the narrative while we're also trying to impress the audience with things that they haven't seen before."
4 The themes will resonate. Green and Fuller knew some of the subject matter might be controversial, but nobody could have predicted just how of-the-moment the material would be. "We were writing about things that we didn't realize would end up being as topical as they are," Green says. Fuller adds, "The conversation about religion and faith and xenophobia, being a stranger in a strange land—all of these issues are part and parcel of the immigration story. We didn't have the agenda in writing them to stir the pot."
5 Two words: Ricky. Whittle. You may have seen the actor in The 100 or Mistresses or dancing to second place in BBC's Strictly Come Dancing, but the former model had to do more than look good to land the role of Shadow Moon. "We saw a lot of gentlemen and there was not a small number of hoops that Ricky had to jump through to get the role," Fuller says. An added bonus? Whittle clicked with costar McShane. "They got on beautifully, both on and off screen," says Green. "It's special when it's greater than the sum of the parts, with these two wonderful actors having fun together."
American Gods, Series Premiere Sunday, April 30, 9/8c, Starz