When Is 'The Ten Commandments' on TV This Year (2017)?
It's an annual sign of spring and a symbol of the Easter season: the annual airing of The Ten Commandments. This year, ABC will broadcast the cinematic classic on Saturday, April 15, at 7/6c.
The legendary Cecil B. DeMille film from 1956 tells the Biblical tale of Moses from his birth through leading the Jews from Egypt to the Promised Land, complete with the burning bush, the parting of the Red Sea and Moses receipt of the holy tablets from God. And although the film depicts the holiday of Passover, it has become an Easter TV tradition for many families to watch The Ten Commandments on ABC.
See Also
Epic movie fans—thou shalt not want to miss ABC's annual airing of this classic!
In the past, the film—which runs 220 minutes without commercials—would air the evening of Easter Sunday. But for the past few years, ABC has moved the broadcasts to Saturday, perhaps to placate critics who bemoaned the lengthy film airing on a school/work night.
The epic movie, The Ten Commandments, stars Charlton Heston in the iconic role of Moses, and also stars Yul Brynner as Rameses, Anne Baxter as Queen Nefretiri, Edward G. Robinson as Dathan, Yvonne de Carlo as Sephora, Vincent Price as Baka, Debra Paget as Lilia, John Derek as Joshua, and features Sir Cedric Hardwicke as Sethi, Nina Foch as Bithiah, Martha Scott as Yochabel, Judith Anderson as Memnet, among others.
The Ten Commandments was filmed on location in Egypt, Mount Sinai and the Sinai Peninsula, and featured vast and elaborate sets. And at the time of its release on November 8, 1956, it was the most expensive film ever made. The Ten Commandments was nominated for seven Academy Awards including Best Picture, and Heston was nominated for a Golden Globe Award for Best Performance by an Actor in a Motion Picture (Drama) for his portrayal of Moses.
The Ten Commandments, Saturday, April 15, 7/6c, ABC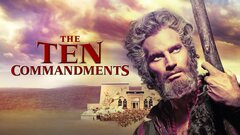 Powered by