Is Casey Anthony Innocent? New ID Special Reexamines Her High-Profile Case (VIDEO)
The Casey Anthony murder trial is considered one of the most notorious in American history, which likely why Investigation Discovery decided to revisit the case in a new three-night event, Casey Anthony: An American Murder Mystery.
While many believed they know all there is to know about the trial, this new special will release previously unseen footage, new evidence, and testimonials from those closest to Anthony's family. Among the people featured are Casey's parents, Cindy and George Anthony, the judge who worked on the case, Barry Perry Jr., and Russ Huekler, an alternate juror.
Watch an exclusive preview of the program below:
Casey Anthony: An American Murder Mystery, premieres Sunday, April 9, 10/9c, Investigation Discovery
See Also
Here's a list of five terrific late-night cable movies in April 2017 for those who are more nocturnal.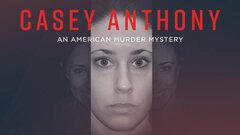 Powered by