'Chicago P.D.': Marina Squerciati Heads Off on Maternity Leave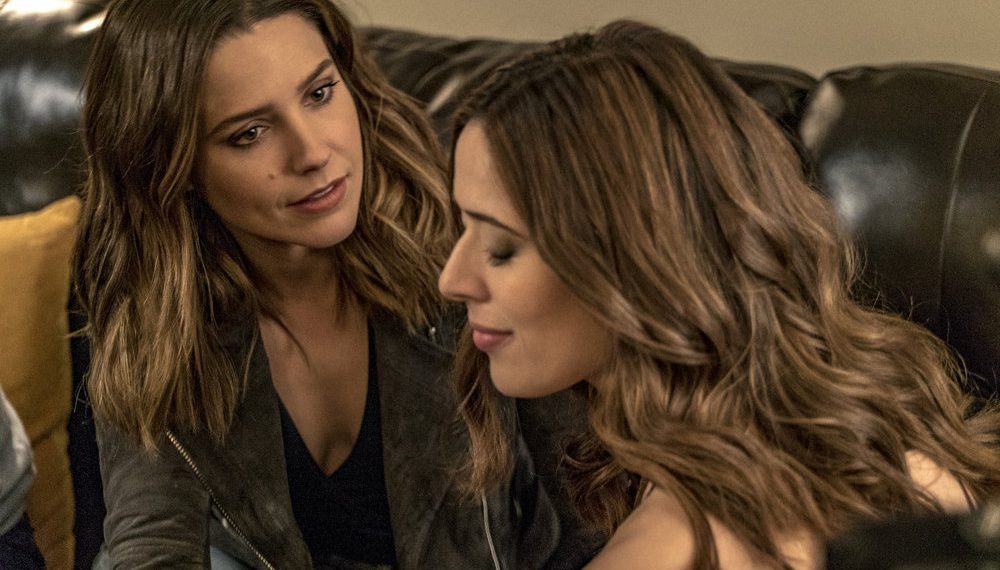 Det. Kim Burgess (Marina Squerciati) says her goodbyes for the season on the April 5 episode of Chicago P.D., called "Last Minute Resistance."
The 33-year-old actress is off on maternity leave for her first child, who is due in early April, which means that Burgess will take a "vacation" from the Intelligence Unit as well.
Squerciati offered TV Insider some scoop about her temporary exit from Chicago P.D.
When is the baby due? And how long into the pregnancy did you work?
The baby's due soon! And I didn't work long enough! I would have kept going until the "bitter end." I guess they didn't have enough file folders for me to work behind. Kidding. No, the show runner [Matt Olmstead] very kindly thought I needed some time to rest before the baby came. It has been nice to have a little time. I've been watching Sophia [Bush, who plays Det. Erin Lindsay] decorate my nursery. Literally watching. I sit on my Land of Nod rocker and happily look on as Sophia zips around the room whipping it into something magical.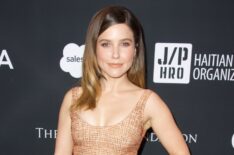 See Also
'Chicago P.D.' star Sophia Bush talks her favorite TV, including 'Black Mirror', 'Sex and the City' and 'Fixer Upper' in TV Guide Magazine's 'My Obsessions' column.
The folders and coats worked pretty well. Your role is a physical one, and you didn't slow down much. Was it tough?
Sometimes, yes. I tried not to show it, though! I did occasionally ask for a chair to sit on between takes. I also continued to work out throughout the pregnancy, though less than (and slower than) my pre-pregnancy routine. Two times a week at my favorite gym, Performance Training Systems, for mostly weight routines, and yoga twice a week. I don't really like prenatal yoga because it's basically just stretching. Stretching is awesome, but then I feel like I still need to work out afterwards. I hope no one recognizes me in my yoga classes, because the way I get up and down from the positions now—it's pretty comical.
What happens that leads Burgess to take a leave?
Poor Burgess. She is finally hitting her stride up in Intelligence. She's wanted to be there for so long. For something to happen to make her leave, it's got to be apocalyptic.
It has to do with her sister Nicole (guest star Jules Willcox) being very badly attacked. That's pretty apocalyptic.
I don't think Nicole will be okay for a very long time. I'd be interested to check in with her next season to see how she's survived and, hopefully, thrived. I had a great time working with Jules I'd love the opportunity to work with her again. [See an exclusive clip from "Last Minute Resistance" below.]
Burgess goes on family leave to help her recuperate. Where do they go?
Most likely the Burgess sisters will stay in Chicago. Zoe (my niece on the show) should probably get into some routine after so much trauma. Paddy [Flueger] and I have advocated that he could have a scene in the finale where he calls to check up on me. They can shoot me talking on an iPhone from the neck up, right? Right?? I don't think that's going to happen, but if any of the writers are reading this…
What's the relationship between Burgess and her former fiance Ruzek when she leaves?
All I can say is that they seem to be in a good place, where they can joke with one another, be around one another and work together without incident. That being said, I think Burgess would lose her mind were Adam to bring another girl around. Give her some credit; she'd play it cool in front of him, and she'd go out with Lindsay and LOSE HER MIND. But, hey, I don't think Adam is ready to see Kim with another guy, either.
Should we assume you'll be back on P.D. in the Intelligence Unit, when the show returns?
We'll see if Voight [Jason Beghe] keeps my place warm for me.
Chicago P.D., Wednesdays, 10/9c, NBC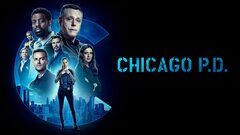 Powered by