Is Meredith Ready to Move On? 'Grey's Anatomy' Star Ellen Pompeo Fills Us In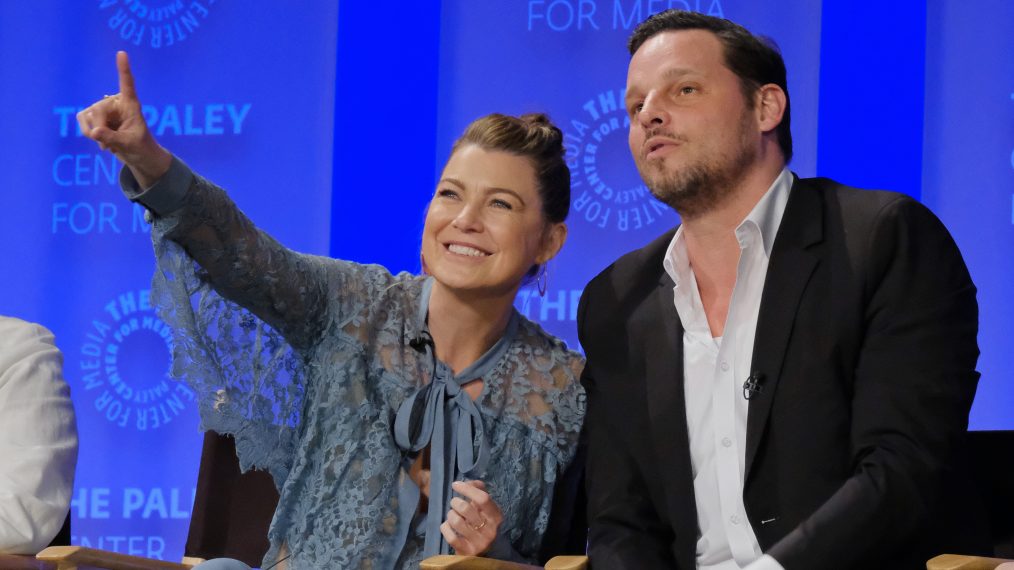 It's been a challenging road for Meredith Grey (Ellen Pompeo) to heal her heart after the death of her husband Derek (Patrick Dempsey) on ABC's long-running Grey's Anatomy, but now that some time has passed, is the time right for Meredith to open her heart once again?
"I think change is always good," Pompeo explained at last week's PaleyFest event for the series. "Evolution...change is important; it's an important fact of life. I think losing someone is very hard so the story about how you go about moving on after that happens is more interesting to me than the actual moving on. It's the process of how do you get to the place where you're ready to move on." Time will tell whether Dr. Martin Riggs (Martin Henderson) is the right choice for Meredith or not.
Also, with the relationship between Amelia (Caterina Scorsone) and Owen (Kevin McKidd) still very rocky, is there hope they'll work things out? "There's a lot to work through," Scorsone told TV Insider. "We've come up now against the core issue. We've come up against a lot of fear, a lot of disappointment for him, a lot of terror and fear for her, this is a critical time for them...it's their most central stuff."
McKidd, who directed a recent episode that focused solely on Jackson (Jesse Williams) and April (Sarah Drew), is hopeful things can turn around for Owen and Amelia. The fact that they are at least at the point where they're in the same room talking (or shouting) could be a good sign.  "I do believe that even though they've got all this damage done to them, Amelia and Owen haven't given up yet and that speaks volumes," McKidd said. "I think they're going to try. I hope they do because I love working with [Caterina]...I've got the feeling Owen is going to try and win her back somehow." Fingers crossed!
See Also
Will the former 'Glee' actor show up at Grey Sloan Memorial as Dr. Jo Wilson's estranged husband?
With so many medical and relationship stories through the years, the overwhelmingly positive fan response at the PaleyFest event is a sign Grey's Anatomy is as popular as ever. When asked why the show has endured for so long, Pompeo said, "I think that it's human stories...I think that we represent what the world looks like and always have represented what the world looks like," she said. "We try to represent the struggles that real people go through with a little bit of fantasy in between and everyone loves a good cry. I think it's a combination of a lot of different things—the actors, the writing, Shonda Rhimes."
Grey's Anatomy, Thursdays 8/7c, ABC