The Roush Review: The New Odd Couple Is Just Blah
The most famous and oft-imitated bromance in entertainment history this side of Bert and Ernie—or Chandler and Joey, for that matter—is back for another round, but there's not a lot to love in this strained, often deafening update of the Neil Simon perennial.
It's not just that a new Odd Couple remake is unnecessary, although from CBS's perspective, the symbolism of premiering this misfire in front of the Two and a Half Men series finale is beyond obvious. And while it might seem foolhardy to try to erase the indelible performances of those who've played Oscar Madison and Felix Unger on big and small screen (and stage), it's not as if a new generation of gifted comic actors shouldn't be able to give it a go. Though it might help if the material they were given emphasized wit over heavy-handed smarm and innuendo.
"All she wanted was sex with no feelings. That's my skill set!" screams the Oscar of Matthew Perry, still running frantically from the ghost of Chandler Bing. In every short-lived sitcom he has attempted since Friends, Perry seems determined to push our affections away with an array of misanthropic, miserable characters. As sex-crazed slob Oscar, living in a lavish pigsty of an apartment, he's all about bellowing and facial contortions, assaulting each joke as if comedy were the enemy, something to be feared. If he had opted to play Felix (which as executive producer he could have done) this all might be more interesting.
Thomas Lennon (Reno 911!) fares better, even if he doesn't exactly make the foolproof role of Felix his own. The characteristic nasal honks, hissy fits, and retorts ("I'd choose a piece more to your liking, but it's hard to play porn on a cello") are at least amusing. And he develops a sweet, funny rapport with Lindsay Sloane as an equally neurotic neighbor.
The supporting cast includes Community's Yvette Nicole Brown as Oscar's wisecracking assistant—in this version, he works from home, mostly in his boxers, as a belligerent sports-radio jock. Wendell Pierce and Dave Foley show up as buddies who envy their divorced pals' bachelor existence, and Oscar's eye-catching digital "sports wall," when they're not cracking crude jokes about Felix seeming "incredibly gay."
Let's leave it at this: The legacies of Randall and Klugman, Lemmon and Matthau remain unthreatened.
The Odd Couple, Series premiere, Thursday, Feb. 19, 8:30/7:30c, CBS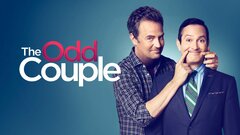 Powered by