First Impressions: How Do Amazon's Spring 2017 Pilots Stack Up?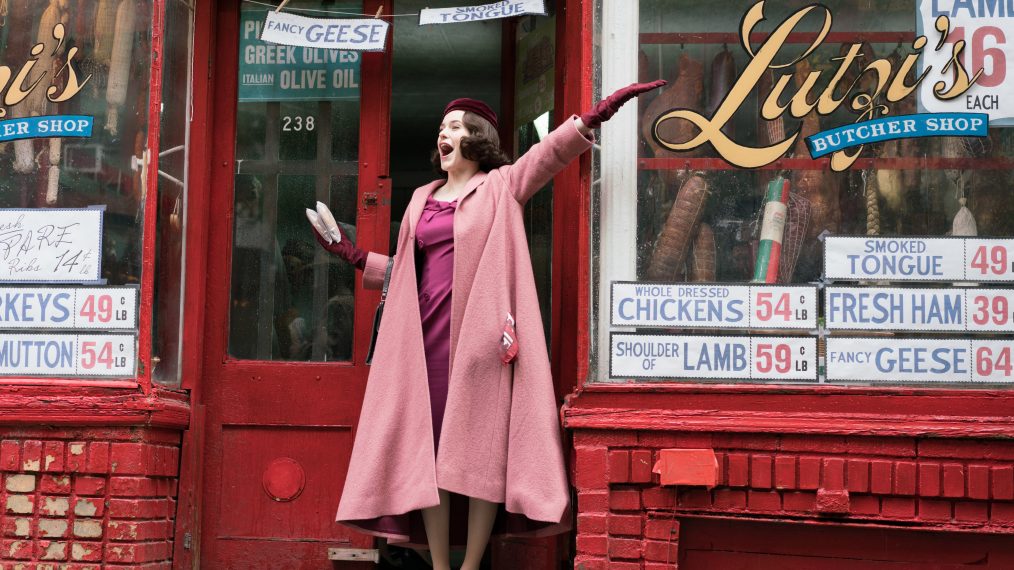 It's that time again: Amazon Pilot Season! The online retail behemoth/streaming site/enabler of the A.I. apocalypse drops its latest batch of Spring pilots this Friday, March 17, for all the world to weigh in on—and you don't even need to have a Prime subscription.
We got a sneak peek at the three half-hour "comedies" and two hour-long dramas that are set to debut, and we've got some opinions. Check out our hot-takes below.
The Half-Hours:
The Legend of Master Legend
Based on a Rolling Stone article about a real-life homemade superhero, this latest sad-com follows Frank Lafount (John Hawkes), an underemployed, borderline homeless Nevada man who roams the Vegas strip each night in a cape and mask attempting to fight crime as Master Legend. When he's not keeping the casino crowd safe, Frank struggles to re-establish a relationship with his ex-wife and teenage daughter. Things get even more complicated when his brother is released from prison.
"Sad-com" might not do Master Legend justice. As with Transparent, the comedy here comes from the characters' quirks, but Master Legend is probably better described as a half-hour drama. Its depiction of disenfranchised working class folks—the casino workers and cab drivers who keep Vegas running—is particularly affecting. Of the three half-hour pilots Amazon is offering up, this is by far the strongest. —John Russell
Budding Prospects
T.C. Boyle's 1984 novel about three white dudes (Veronica Mars's Adam Rose, Bones' Joel David Moor, MADtv's Will Sasso) who leave San Francisco to start a pot farm forms the basis for this stoner comedy. We never actually make it to the remote Mendocino farm in the pilot, but Amazon's description makes the show sound like it's aiming for something along the lines of The Money Pit-meets-Workaholics-meets Silicon Valley, with Brett Gelman's oddball character seeming like a refugee from HBO's tech industry comedy. Director and executive producer Terry Zwigoff helmed both Ghost World and Bad Santa, and with its preoccupation with some of the grimier, and frankly grosser, aspects of the slacker lifestyle—and San Francisco in general—Budding Prospects feels more akin to the latter. —J.R.
The New V.I.P.'s
With its first adult animated series, Amazon has its sights on the Adult Swim crowd, but The New V.I.P.'s suffers from the same pitfalls as many other grown-up cartoons—mistaking crass misanthropy for smart satire. This tale of a group of corporate cogs who, through a series of epic screw-ups, find themselves in charge of a major corporation, is less Bojack Horseman than latter-day Family Guy. —J.R.
See Also
Interviews with Bill Maher, James Caan and Carmen Electra fuel the new docuseries 'American Playboy: The Hugh Hefner Story'.
The Hour-Longs:
The Marvelous Mrs. Maisel
A period piece about a female comedian in 1950s New York City, from the creators of Gilmore Girls? Count us in for this one from Amy Sherman-Palladino. Though a bit slow at first, by the end of the episode the story is clearly established, and the dialogue is as witty and fast-paced as you'd expect from Palladino.
Miriam "Midge" Maisel, played by Rachel Brosnahan (Manhattan), is a shining ray of light stuck in a depressing marriage with a failing comedian husband (Boardwalk Empire's Michael Zegen) who hates his day job. But Midge isn't just an Upper West Side housewife with a penchant for the color pink. She's counting her hubby's laughs and writing new jokes too. When she finally steps up to the spotlight by the end of the pilot, you'll see who the real star in the Maisel family is.
Also keep an eye out for Palladino favorites like Gilmore Girls guest star (and almost the woman who played Sookie!) Alex Borstein and Bunheads' Bailey De Young. —Emily Aslanian
Oasis
If you thought The Exorcist had a hot priest, just wait until you see Oasis' chaplain Peter. Played by Game of Thrones' Richard Madden, Peter is shipped from London 2032 into the Oasis Project, the beginnings of the first permanent colony on a new world, after its creator David Morgan (Jonjo O'Neill) insists they need "a man of God."
Based on Michel Faber's novel The Book of Strange New Things, this one feels like a Syfy show stuck in the far-too-serious world of streaming. The pilot spends too much time on its central mystery (where the Oasis creator Morgan has disappeared to, and why the colonists are seeing visions of their family members), and not enough time building up the main characters—who, frankly, we're not even sure will survive this "nightmare" of a planet. Unfortunately, we're not so sure we care much if they do. —E.A.