Roush Review: Going Home Again With 'Gilmore Girls'
Ever known a special someone who comes back into your life after years of absence, and when you reconnect, it's as if no time has passed at all? That's the sweetly satisfying and powerfully emotional rush any Gilmore Girls fan is bound to experience when gorging on the post-Thanksgiving feast of A Year in the Life, a blissful four-part reunion cooked up by the show's creator, Amy Sherman-Palladino.
Though nearly a decade has gone by since the last new episode, the good news is that little has changed in the beguiling Brigadoon of Stars Hollow, Connecticut, a safe-haven hamlet for lovably eccentric oddballs. Their overly caffeinated queen bee, now and forever, is that quirky chatterbox inn owner Lorelai Gilmore (fizzy, funny Lauren Graham), who hasn't missed a beat, or seemingly taken a breath, since we last made her acquaintance. "I believe in a former life I was coffee," she blurts, as irrepressibly savory and zany as ever.
Once she welcomes daughter Rory (a delicately charming Alexis Bledel) back home from a globe-trotting whirl through journalism, it soon becomes clear that all of the Gilmore gals are at a crossroads. Rory is rootless, living out of boxes and seeking a proper outlet for her voice. Lorelai is unusually restless at work and at home with longtime companion Luke (Scott Patterson). Widowed matriarch Emily (the grand Kelly Bishop) is rudderless, seeking purpose as she rattles around the Hartford manse without her mate of 50 years (the late Edward Herrmann, much missed).
RELATED: Gilmore Girls: A Look at Rory Gilmore's Boyfriends and Why None of Them Are Right For Her
A Year in the Life is divided into seasonal chapters much like the classic, and just as timeless, movie musical Meet Me in St. Louis, which may be just about the only pop-cultural reference missing in a flurry of bantering riffs that includes Wild (book vs. movie), Narcos, Outlander, Eraserhead, Lifetime movies, The Mysteries of Laura—"Is that a show?" Rory wonders—Khaleesi from Game of Thrones and, inevitably, Hamilton. Shifting gears effortlessly from screwball whimsy to bittersweet romance to lacerating multigenerational conflict, the new/old Gilmore Girls is almost ridiculously satisfying.
As delightful as all of this can be, the accumulation of willfully offbeat preciousness can at times become cloying, like biting into an overstuffed jelly doughnut. (My advice: Pace yourself. I watched an episode a day, each roughly 90 minutes, over a long weekend and was much the better for not going binge-crazy.) Even Tony winners like Sutton Foster (from Sherman-Palladino's too-short-lived Bunheads) and Christian Borle can't adequately sell an over-the-top musical sequence that goes one step of meta self-awareness too far. But when it works, as in a running gag involving Emily's unintelligible new maid and her seemingly endless extended family—a sly commentary on the current immigration debate?—Gilmore Girls remains one of TV's true original treasures.
No wonder nearly every character beloved by Gilmore fans returns before the over-too-soon finish. Seems everyone comes back sooner or later to Stars Hollow, that Mayberry-like TV land of enchantment. I know I never wanted to leave.
Gilmore Girls: A Year in the Life, Premiere, Friday, Nov. 25, Netflix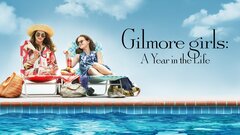 Powered by