What's On: An 'Ugly Betty' Reunion on 'Superstore,' and NCAA March Madness Officially Gets Underway
Superstore (8/7c, NBC): America Ferrera reunites with her Ugly Betty TV dad Tony Plana, who's again playing her father, in an episode of the underrated sleeper sitcom in which Amy (Ferrera) asks Jonah (Ben Feldman) to help her parents move out of the home in which she grew up. Back at the store, Glenn (Mark McKinney) will do anything to win Cloud 9's new "Integrity Award," even at the cost of his integrity.
NCAA College Basketball (tipoff at 12:15 pm/11:15c, CBS; also TruTV, TNT and TBS): The first round is often the best round as the NCAA road to the Final Four officially gets underway, with the possibility of Cinderella team upsets against fan-favorite Goliaths. The action continues into prime time, which means the usual CBS lineup will be suspended this and next Thursday and Friday.
Review (10/9c, Comedy Central): The final season begins with life critic Forrest MacNeil (Andy Daly) having survived a potentially fatal fall off a bridge. Undaunted, he's raring to continue recklessly reviewing more of the intensely bizarre experiences life has to offer.
Inside Thursday TV: Walter Presents, a new streaming service specializing in high-end foreign drama curated by former British TV exec Walter Iuzzolino, launches after a successful debut in the U.K. Series include the Norwegian thriller Valkyrien, set in an underground hospital treating criminal patients, and the French political thriller Spin. … More original streaming content on Crackle, which offers up a 10-episode series version of the heist caper Snatch, starring Harry Potter's Rupert Grint, Gossip Girl's Ed Westwick and Fear the Walking Dead's Dougray Scott. … On NBC's Blacklist: Redemption (10/9c), Scottie (Famke Janssen) gets closer to the truth about Tom's (Ryan Eggold) identity as she discovers new intel about her late husband (Terry O'Quinn).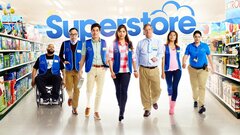 Powered by