Vince Gilligan on Better Call Saul's Unexpected Time Jump
SPOILER ALERT: Stop reading if you have not yet watched the premiere episode of Better Call Saul!
When AMC and Sony Pictures Television announced that the much-anticipated Breaking Bad spinoff Better Call Saul would be a prequel, executive producers Vince Gilligan and Peter Gould promised to tell the story of how struggling small-time lawyer Jimmy McGill (Bob Odenkirk) transformed into the slick and sleazy criminal attorney Saul Goodman. But the first few minutes of tonight's premiere episode featured a surprising jump forward in time, catching up with Saul after the events of Breaking Bad's finale.
Sporting a moustache and receding hairline, Saul is seen spending his days as the manager of a mall Cinnabon in Omaha, Nebraska. His only solace to escape the loneliness: a VHS copy of his former law office's Albuquerque television commercials that he watches as a reminder of his past life. While the scene was only a brief glimpse into the future, Gilligan says there's a possibility it will be revisited in subsequent episodes.
"People shouldn't hold their breath to get more clarity on it this season, but I would be surprised if that were the last we're ever going to see of Omaha," Gilligan says. "I think there's a whole other story to tell."
In fact, that story was almost the central focus for Better Call Saul. "There was a version of this show that was strictly a sequel," Gilligan says. "We talked quite a bit about the events of Omaha and beyond, but in a greedy fashion, we figured out a way we can have a little bit of everything."
While production on Saul's first 10-episode season has wrapped, the writers have already begun working on Season 2, and Gilligan notes time will continue to play a major role in the storytelling. "The sky's the limit, but as to if and when and what ratios of past, present and future, that's still a work in progress," he says. "We have a wealth of options and an embarrassment of riches."
For fans craving more Better Call Saul, the two night premiere event continues on Monday, February 9 at 10/9c on AMC.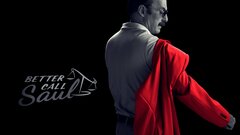 Powered by