Review: Better Call Saul (But You Can Call Him Jimmy)
In the beginning…there was no Saul to call.
Which is just one of many intriguing surprises awaiting the legions of Breaking Bad fans who'll hungrily tune in to Better Call Saul, AMC's marvelously original and instantly engrossing hybrid of origin story, prequel, and spinoff.
Much in the way Breaking Bad followed Walter White's devastating evolution from milquetoast to criminal mastermind, Better Call Saul emphasizes darkly comic pathos, with sudden detours into sinister savagery, as we're introduced to Jimmy McGill (Bob Odenkirk), a sad-sack Albuquerque lawyer who way back in 2002 was not on anyone's speed dial. Hard-luck Jimmy will, of course, eventually morph into Bad's smarmily self-promoting wrong-side-of-the-law shyster Saul Goodman, a journey of reinvention we anticipate and dread in equal measure.
I admit I was initially skeptical about a series built around a character who I always felt worked best in small doses. (I have similar trepidations about AMC going back to the Walking Dead well for a second zombie horror show. Are there no new ideas at this network?) But series cocreators Vince Gilligan and Peter Gould bring fresh eyes to Saul, favoring humanism over hubris early on, including a poignant subplot involving Jimmy's basket-case brother (Michael McKean), a lawyer whose pre-meltdown success is a marked contrast to Jimmy's increasingly dire straits.
And Odenkirk brings such vividly raw desperation to this hapless bottom-feeder that, just as with Bryan Cranston's Walter, it's hard not to root for Jimmy as he tangles with lowlifes–some petty and silly, some psychotic and scary (a few recognizable to longtime Breaking Bad fans)–while feverishly trying to hang on to even a shred of professional integrity and decency. Well, we know how that turns out. But how he gets there? That's a ride worth taking.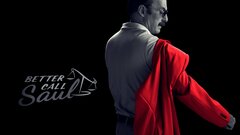 Powered by