Better Call Saul Has Breaking Bad's Legal Eagle Stepping Up to the Bench
On a rainy Saturday in January, a month before the premiere of Better Call Saul, Bob Odenkirk pulls up a chair at the Terrace Restaurant in Pasadena's Langham Hotel and lets out a deep sigh. Odenkirk and the cast of AMC's prequel series to Breaking Bad have just completed a panel discussion in a ballroom packed with reporters, and the show's star is in a state of disbelief. "Today is the first day where I saw a bunch of strangers watching what we did and it hit me that this is a show," he says. "Up until here, it was a ton of work. My head was spinning the whole time. But I'm proud of what we did, because we left all our energy and our sweat out on that playing field."
The anticipation and pressure surrounding the 10-episode Better Call Saul has been building for more than a year. Breaking Bad concluded its five-season run in September 2013 with more than 10 million viewers–the finale was its most-watched episode ever–and went on to win five Emmys, including its second for Outstanding Drama Series. At the time, Bad creator Vince Gilligan and writer Peter Gould were already formulating a plan to continue and expand the Breaking Bad world, this time centering the story on Walter White's sleazy, smooth-talking criminal consigliere, Saul Goodman.
"Breaking Bad was about taking this nice man and finding the darkness inside him," says Gould, who wrote Saul's introduction in the eighth episode of Season 2. "In [Better Call Saul], we start off with this slippery, amoral character and we're finding that underneath is a decency and a humanity."
The story of Saul's evolution begins in Albuquerque, circa 2002, when he is still using his birth name, Jimmy McGill, and working as a cash-strapped public defender struggling to establish his career. The producers acknowledge that the storytelling structure is similar to Walter White's journey from Mr. Chips to Scarface–but there are significant differences between the two men. "Walter was endlessly fascinating, but he was a repellent sociopath," Gilligan says with a laugh. "Jimmy McGill is a guy I'd want to have a beer with and a guy that I root for. There are a lot of shades of gray to Jimmy, but he is surprisingly old-fashioned in his heroism."
For his part, Odenkirk says he couldn't have done Breaking Bad's version of Saul Goodman for much longer. "There wasn't a whole lot to reveal and it would have gotten a little boring to me," he says. "This is a far richer character. He's a whole human being. There's his public face and his private existence."
That private existence includes caring for his older brother, Chuck (Michael McKean), a brilliant and successful partner in an established law firm who's been sidelined by mental and physical illness. "Chuck is at a master-of-the-universe level but is now oppressed by the universe he used to master," says McKean, who was recruited for the role by Breaking Bad star Bryan Cranston when the two appeared together in the Broadway play All the Way. "He has slipped from his position as the guy who was always there to bail Jimmy out, so now he's really lucky to have [his brother]. It's one of the sweeter things about Jimmy." Jimmy's lighter side is explored through his complicated romantic relationship with fellow attorney Kim Wexler (Rhea Seehorn). "They have a long professional and social history," Seehorn says. "Kim thinks he's charming and funny. She gives the audience a chance to see why Jimmy is so likable."
But the real treat for fans is Saul's ability to integrate characters from Breaking Bad, including gruff PI Mike Ehrmantraut (Jonathan Banks), a parking attendant in Saul's world. While Mike's initial interactions with Jimmy are brief (yet memorable), producers promise his storyline will be blown open halfway through the season. "Episode 6 is a Mike episode, and people are going to s–t themselves," Gilligan says. "It's as dark as anything we ever did on Breaking Bad." More familiar faces are expected to appear, but, the producers caution, only when it feels organic to the story. "We don't want to be artificial about it and we don't want to be stunty," Gilligan says. (Gould has already said that Cranston and Aaron Paul, who played Bad's Jesse, will not appear in Season 1.)
AMC also doesn't want to lean too heavily on the success of Breaking Bad when it comes to expectations surrounding Saul. "There is always pressure to have your next series succeed," says network president Charlie Collier. "But Better Call Saul is not the sixth season of Breaking Bad. The goal has always been to create a story that stands on its own as a well-crafted, compelling drama. Saul is very much its own show and something truly original."
As the premiere approaches, Gilligan and Gould admit to being nervous, anxious, and a little hopeful when it comes to audience reaction. "But if people don't like it and they're coming after us with torches, we'll have a different feeling," Gould says, laughing. "We've been living with this thing for a year. I just want people to see it." Case closed.
Better Call Saul, Series premiere, Sunday, Feb. 8, 10/9c
Time-slot premiere, Monday, Feb. 9, 10/9c; AMC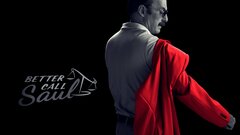 Powered by