Victor Garber and Dominic Purcell Burst Into Song on 'Legends of Tomorrow' (VIDEO)
Sure, he might be singing in The Flash-Supergirl musical crossover, but why wait until then to enjoy the song stylings of Victor Garber? In this exclusive clip from Tuesday's NASA-centric episode of Legends of Tomorrow, we have the Broadway vet, as Stein—and Dominic Purcell's Mick Rory for added insanity—breaking into song for the world to enjoy.
Why the sudden outburst? Well, it all has to do with the 1970 Apollo 13 mission and the Legion of Doom's potential role in a time aberration. Seems there may be a portion of the Spear of Destiny up on the moon, and to keep the ground crew from noticing Ray's lunar crash landing, Stein and Mick (posing as space-race workers) belt out a rendition of Harry Belafonte's "Day-O (The Banana Boat Song)" that makes that famous Beetlejuice dinner scene seem staid. Check it out below:
Daylight come and me wanna go there.
See Also
The CW has just released your first look at Grant Gustin and Melissa Benoist from the #SuperFlash musical episode!
DC's Legends of Tomorrow, Tuesdays, 9/8c, The CW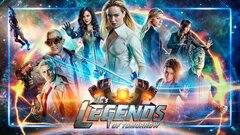 Powered by