'Legends of Tomorrow' Introduces the Justice Society of America and Lots of New Heroes
If you thought DC's Legends of Tomorrow was a superpalooza last season, just wait. "This year we're mainlining superheroes," laughs executive producer Marc Guggenheim, who is introducing the Justice Society of America in this week's episode.
Good thing too, since the bad-guy stakes are being raised by the Legion of Doom confab of Damien Darhk (Neal McDonough), Reverse-Flash (Matt Letscher), Malcolm Merlyn (John Barrowman) and Captain Cold (Wentworth Miller).
Here's our dossier on the DC Comics do-gooders set to board the Waverider and battle these villains beside Rip Hunter (Arthur Darvill) and his team:
Hourman
Suits star Patrick J. Adams dropped in at the end of last May's finale as Rex Tyler, a chemist who discovered a compound that gives him 60 minutes of enhanced abilities. What Tyler needs the team for is still a secret, but we do know he was sent from the future back to 2016 with a warning…from none other than Mick "Heat Wave" Rory (Dominic Purcell).
RELATED: Legends of Tomorrow's Nick Zano on Being the New Guy In a Group of Time-Traveling Superheroes
Commander Steel
Matthew MacCaull is set to guest as cybernetic WWII-era supersoldier Hank Heywood, but it's his grandson Nate (Nick Zano) who will be the one mobilizing this time around. "Nate's going to develop superpowers and try to live up to his grandfather's legacy," confirms Guggenheim. He's also the historian who recruits Green Arrow (Stephen Amell) after realizing that the Legends have gone missing.
Vixen
Thanks to the show's penchant for time travel, Maisie Richardson-Sellers is joining the team as the grandmother of modern-day Mari McCabe (played by Megalyn Echikunwoke on both CW Seed's Vixen cartoon and Arrow last season). The 1942 edition, laughs Guggenheim, is "horrified" by Hunter's crew. "Especially Rory, whom she considers a murderer…because he is!"
RELATED: DC's Legends of Tomorrow Announces New Justice Society Heroes and Legion of Doom Villains
Stargirl
The female half of DC Comics team-up Stars and S.T.R.I.P.E.—played by Sarah Grey and based on DC Entertainment President Geoff Johns's late sister, Courtney—will bring her energy-shooting staff to what Guggenheim excitedly describes as "an awesome interaction" with Jax (Franz Drameh), aka one half of the Firestorm duo.
Obsidian
Guggenheim reveals that Todd Rice, also known as the shadow-manipulating son of original Green Lantern Alan Scott and villain Thorn, will be found in 1987 as "an older gentleman" in the form of horror-movie icon Lance Henriksen (Aliens, Pumpkinhead). He'll first appear in the second episode.
Dr. Mid-Nite
"One of the things the comic books did well was show how inclusive the JSA is," Guggenheim says of the blind African-American physician (Kwesi Ameyaw) who can see in the dark. "We want to reflect that inclusiveness in the makeup of the group. We wanted a mix of races and a mix of genders."
DC's Legends of Tomorrow, Thursdays, 8/7c, The CW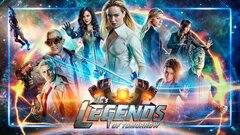 Powered by