'Game of Thrones' Season 8 Will Be 6 Episodes Long
Game of Thrones' final season will be short and bittersweet.
At the show's SXSW panel in Austin, showrunners David Benioff and Dan Weiss confirmed that Thrones' eighth and final outing will be just six episodes long—one shy of the Season 7 order.
According to The Verge, Benioff told the assembly that he and Weiss would pen the final four of the Season 8 episodes, with Dave Hill tackling the Season 8 premiere and Brian Cogman the hour after.
RELATED: Sign up for TV Insider's Game of Thrones Newsletter
During the panel, Benioff also revealed that Ed Sheeran—who had a fine time being brutal in Kurt Sutter's short-lived The Bastard Executioner—will make an appearance in Season 7 as a treat for superfan Maisie Williams, who plays Arya.
What's your take, Game of Thrones fans, now that we know there are just 13 episodes to go in the battle for the Iron Throne? Good enough if they're good? Not enough, no matter what? Lets talk about it in the comments section below.
Game of Thrones, Sundays beginning July 16, HBO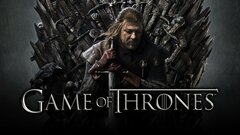 Powered by