Celebrate 'Buffy the Vampire Slayer''s 20th Anniversary With Some Kick-Ass Merchandise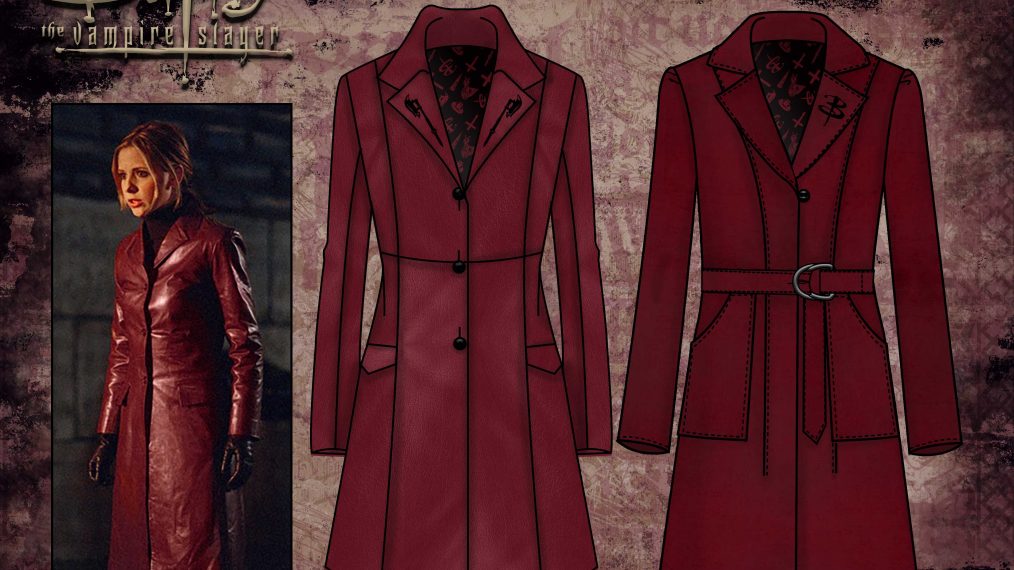 March 10 is a notable date for fans of vampire TV shows. Of course, this Friday, March 10, marks the series finale of The CW's The Vampire Diaries. But Friday will also mark the anniversary of the beginning of another iconic show about vampires—Buffy the Vampire Slayer, which debuted 20 years ago on The WB, Monday, March 10, 1997. (Buffy ended its run in 2003 on UPN; UPN and The WB eventually ceased operations and merged into what is now The CW, which airs The Vampire Diaries, so perhaps the vampire circle is complete.)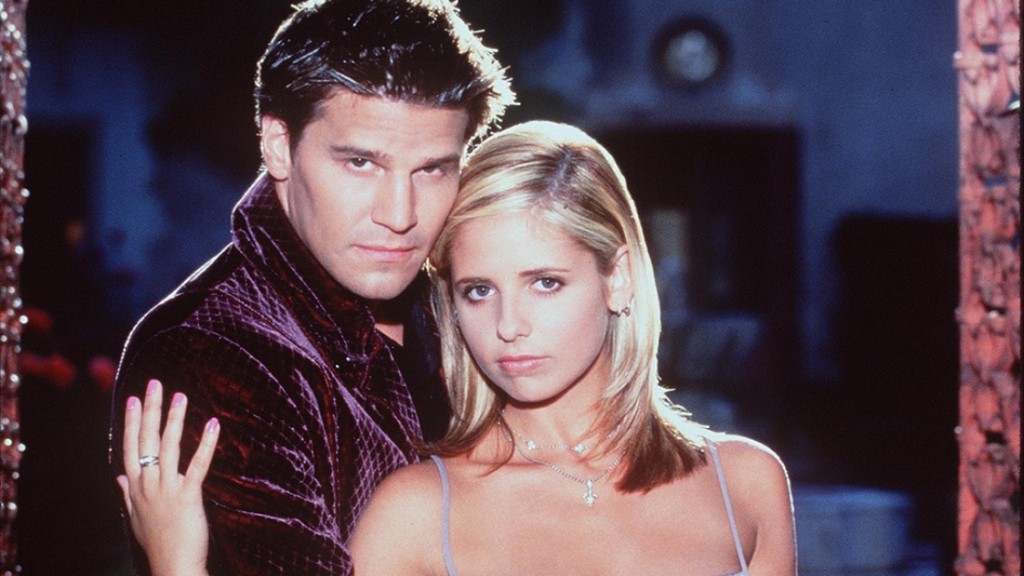 Buffy the Vampire Slayer was created by Joss Whedon (The Avengers), based on his screenplay for the 1992 feature film of the same name, which featured Kristy Swanson as the Slayer. Whedon was reportedly disappointed that the filmmakers took a comedic approach to his script, which he had intended to be a scary story with themes of female empowerment. That certainly was remedied in his series, which featured a strong title character in the form of Buffy as played by Sarah Michelle Gellar. Along with Gellar, the series also helped actors like Alyson Hannigan, David Boreanaz and Seth Green become household names.
See Also
We asked you to vote for the most badass lady in television history. Here's the winner you chose!
A fan phenomenon, Buffy inspired many tie-ins, from novels and comic books, to video games and fan fiction. The 20th anniversary of Buffy the Vampire Slayer will see its own tie-ins, as well. The Consumer Products division of Fox, the studio that distributed the series, has announced plans that it says will fill Buffy fans with "geeky joy," such as contests, new Buffy merchandise, classic Buffy episodes airing on TV and more. "Decades after its television debut, Buffy the Vampire Slayer continues to stake its ground in pop culture," said Jim Fielding, president of consumer products and innovation at 20th Century Fox Consumer Products. "As one of the studio's most memorable programs, we are thrilled to celebrate the show's 20th anniversary alongside the devoted Buffy fan community."
Here are highlights of what's in store for the Buffy 20th anniversary:
Where To Watch Classic Buffy the Vampire Slayer Episodes
The Pop network will air the two-part Buffy series premiere—"Welcome to the Hellmouth" and "The Harvest"—March 10 at 9am ET/PT.
New Buffy Merchandise
From Jasco, Buffy the Vampire Slayer: The Board Game will allow players to help Buffy protect Sunnyvale from the forces of evil. (Available now)
Hot Topic and AC/DC Apparel are unveiling a fashion collection available exclusively on HotTopic.com this summer. The collection will celebrate the style of beloved Buffy characters, including Willow's '90s sweater, and a long trench coat inspired by Buffy Summers herself (see top photo), as well as tops featuring iconic lines from the series. (Available this summer)
Ripple Junction has developed a full line of T-shirts for young men and women available now at major retail outlets, as well as at RippleJunction.com and Amazon.com.
Dark Horse and Simon & Schuster will release new books and comics during the anniversary year, with highlights including:
– Buffy the Vampire Slayer Adult Coloring Book (Dark Horse; available now)
– Buffy the Vampire Slayer Season 11 & Angel Season 11 Comic Series (Dark Horse; available now)
– Buffy: The High School Years—Parental Parasites (Dark Horse; available June 2017)
– Buffy the Vampire Slayer: Omnibus Season 8 Vol. 1 (Dark Horse; available September 2017)
– Buffy the Vampire Slayer: Big Bads & Monsters Adult Coloring Book (Available for pre-order; releasing Fall 2017)
– Buffy the Vampire Slayer: The Watcher's Guide 20th Anniversary Edition (Simon & Schuster; available October 2017). The Watcher's Guides have been compiled into one hardcover collector's edition for the first time. Inside is all the best content from Volumes 1-3 of the original Watcher's Guides, as well as exclusive new content, including never-before-seen interviews with cast and crew.
Insight Editions and Harper Design will release several books and novelty items in celebration of Buffy's 20th anniversary:
– Buffy the Vampire Slayer Encyclopedia: The Ultimate Guide to the Buffyverse (Harper Design; available September 2017). This book written by Buffy experts is billed as the authoritative source for fans, allowing them to indulge in the intricacies and nuances of the series as never before. It's a full-color, A-to-Z reference that catalogs, explains and cross-references every detail of the Buffyverse.
– Buffy the Vampire Slayer: The Official Grimoire (Insight Editions; available October 2017). A comprehensive collection of every magical moment from all seven seasons of Buffy, humorously narrated by resident witch Willow Rosenberg. This book of spells is completely illustrated and annotated by the rest of the gang.
– Buffy the Vampire Slayer: The Definitive Visual Handbook (Insight Editions; available October 2017). An infographic guide to all things Buffy, blending illustrations with facts and stats that shed light on just about every aspect of the show.
– Buffy the Vampire Slayer: Vampyr Stationery Set (Insight Editions; available August 2017). Includes a 192-page blank journal, 20 blank notecards featuring iconic Buffy quotes, envelopes and 20 Hellmouth sticker seals, all enclosed in a keepsake box designed to look like it came from Giles' library.
– Buffy the Vampire Slayer: Vampyr Hardcover Ruled Journal (Insight Editions; available August 2017). Includes a section of text adapted from the original Slayer Handbook before giving way to blank ruled pages.
– Buffy the Vampire Slayer: Sunnydale High Hardcover Ruled Journal (Insight Editions; available August 2017). A writing journal that includes a ribbon bookmark, elastic closure, inside back pocket for storage and leatherette cover featuring the emblem of Sunnydale High.
From Upper Deck comes Legendary: A Buffy the Vampire Slayer Deck Building Game (Available August 2017). For 1-5 players, Slayers must work together to recruit powerful heroes, build their decks and take down the Big Bad once and for all.
[email protected] is creating a jewelry and accessory line to celebrate 20 years of Buffy. (Available soon)
Surreal Entertainment is offering a full line of Buffy-inspired drinkware, desktop accessories, fleece blankets and much more. (Available May 2017)
Online Buffy Anniversary Initiatives
On March 10, the Sunnydale High Yearbook Contest launches across the United States. With a prize of a trip to San Diego Comic Con, fans will be rewarded for uploading their high school class photos, and providing their best Buffy caption in the form of a "senior quote." Participants will be able to share their submissions across their Facebook and Twitter feeds. Contest details and rules will be available at BoxLunch.com.
Also on Friday, a selection of complimentary designs from the Buffy the Vampire Slayer Adult Coloring Book will be unveiled on the BoxLunch and official Buffy Facebook pages, allowing fans to color and submit personal anniversary messages. Using the hashtag #BuffySlays20, fans are encouraged to share their designs and messages across social media.
Powered by