8 Epic Moments from 'The Vampire Diaries' Through the Years
How do you sum up eight seasons in eight moments? If you're a fan of The Vampire Diaries, you do so epically.
As the final episode of The Vampire Diaries—appropriately titled "I Was Feeling Epic"—approaches, TV Insider is looking back at the moments that shocked us, took our breath away and will make us miss our favorite vampires in the town of Mystic Falls.
8. Caroline's Vampire Transformation (Season 2, Episode 1)
It was a huge moment when Katherine (Nina Dobrev) killed Caroline (Candice King), who just happened to have Damon's (Ian Somerhalder) vampire blood in her system after surviving a car crash. Caroline's transformation from preppy cheerleader to badass vampire during season 2 gave her the confidence to take control of her life and made her go from highly unlikable to one of our favorite characters.
7. Enzo and Bonnie Fall in Love (Season 7, Episode 5)
We're calling it: Bonnie and Enzo are the best couple to come out The Vampire Diaries since Damon and Elena. Their romance was totally unexpected (we first learned about it when Bonnie was hiding out in a mental hospital) and a refreshing sight amongst the deadly chaos of Seasons 7 and 8. Between Enzo's (Michael Malarkey) grand romantic gestures—featuring trips to Paris and blood vial necklaces—and Bonnie (Kat Graham) actually being happy for once, their romance was truly epic. That is, until Stefan ripped Enzo's heart out.
6. Stefan Becomes Human (Season 8, Episode 11)
Speaking of Stefan…wow, we didn't see this coming. Even after eight seasons Diaries can still pull off a great twist. When vengeful Bonnie stabbed Stefan (Paul Wesley) with the cure she blood-jacked out of sleeping Elena this season, it turned Stefan into a human. Of course, he totally deserved it after ripping out Enzo's heart, so maybe this twist will lead a now Cade-free Stefan on the path to redemption?
5. Klaus and Caroline's Forest Make-Out Session (Season 5, Episode 11)
It was a long time coming, but Caroline and Klaus' (Joseph Morgan) make-out session during season 5 was one of the most satisfying moments of the series. Everything about the former villain's unexpected love for our favorite baby vampire was truly epic—from Klaus saving Caroline (twice) to leaving romantic horse drawings in her room. While their romance came to a close with this steamy scene, we're still holding out hope for Caroline to make her way onto The Originals.
4. Stefan and Damon Turn Into Vampires (Season 1, Episode 6)
After learning about the Salvatore brother's backstory during season 1, it's no surprise that Damon and Stefan are so angsty all the time. In the series' first major flashback, scene the deadly love triangle between Damon, Stefan and Katherine ultimately leads to the brothers' father shooting them while they had vampire blood in their systems. The most shocking part? Stefan (the "good" brother) was the one who persuaded Damon to feed and complete the transition.
3. Katherine's Bloody Return (Season 1, Episode 22)
Even after eight seasons, Katherine's big return in the season 1 finale is still one of the most shocking moments from the series. Posing as Elena, Katherine goes from kissing Damon outside of the Gilbert house to chopping off Elena's uncle John's (David Anders) fingers with a steak knife. Katherine knows how to make an entrance and we expect nothing less from the newly-minted queen of hell as she makes her grand return in the final episodes of the series.
2. Elena's Death and Rebirth (Season 3, Episode 22)
We all saw Elena's death and transformation into a vampire coming, but it was stunning to watch Matt (Zach Roerig) and Elena drive off Wickery Bridge to a watery grave in the Season 3 finale. With Elena being a vampire, the series was able to turn the flat, good girl character into a more complex, interesting and unstable creature.
1. Damon and Elena's Epic Motel Kiss (Season 3, Episode 19)
The big moment that left everyone swooning finally came during Damon and Elena's road trip in Season 3. When Elena's feeling boil over after being forced to share a bed with Damon, she runs out of the motel room, and the two share their first steamy kiss. Even though Elena's clueless brother Jeremy (Steven R. McQueen) interrupts the moment, the Delena ship set sail into eternity.
What is your favorite moment from the past eight seasons of The Vampire Diaries? Let us know in the comments section below!
The Vampire Diaries, Series Finale, Friday, March 10, 8/7c, The CW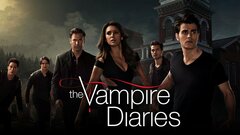 Powered by