Ready for a 'Bones' Revival Already? Emily Deschanel and David Boreanaz Weigh In
With show revivals popping up frequently, it's not surprising the question of Bones possibly returning at some point in the future was broached during the show's final Television Critics Association panel. But with the show's end still to come, the stars were unable to look that far ahead. "It's very hard for me to answer that question, honestly," David Boreanaz (Booth) said. "Everything is possible in life, but I tend to like to go forwards…In general, I don't like reunions and I don't like to go back."
Added Emily Deschanel (Brennan), "I would like some time. We put 12 years into the show. I'm really proud of doing the show for this long. I loved doing the show. It's very emotional to say goodbye. To go [any time soon], 'Welcome back!' It's an emotional roller coaster. That's not to say I wouldn't consider it in a good amount of time."
RELATED: Bones Boss Previews the Final Season's Resolution and Reveals Returning Favorites
Also revealed during the panel: Executive producers and current showrunners Michael Peterson and Jonathan Collier will close out the series in a different way than series creator Hart Hanson had originally intended.
"I had another ending to the show in mind," Hanson—who was originally scheduled to write the series finale—said. "I fully love what they've done. I give them my full, full support. When I first stopped running the show, [executive producer] Stephen Nathan…who is not here today, one of the first things he did was completely defy me and kill Sweets. I would have never killed Sweets. But Stephen was running the show and it was obviously a good idea."
RELATED: 2017 Winter TCA: TV's Biggest Stars Pose in Our Portrait Studio
Fans will also get an alternate take on what the fabled "447" means in the series. "I sent them my explanations of what the number 447 means for the ultra Bonehead fans, and they completely ignored me," Hanson laughed. "They're the showrunners. It's whomever is running the show."
But, they have his approval: "They did a wonderful job," Hanson said.
Bones, Tuesdays, 9/8c, Fox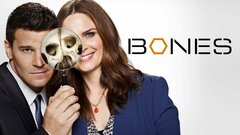 Bones
where to stream
Powered by