'The Tonight Show' International Spy Is Your Feel Good Video of the Week
The Tonight Show is never a let down when it comes to fun segments. This week, Jimmy Fallon and The Roots collaborated with the audience in a segment titled, "Freestylin' with the Roots" where they asked audience members personal questions, and created an original song from the answers.
The highlight of the segment was without a doubt, Andrew Long, who was invited to dance on stage with Jimmy and The Roots. Andrew, who is a self-professed "musical theater nerd," said Neil Patrick Harris would portray him in a biopic film titled Andrew Long International Spy.
See Also
The best late-night talk shows have a strong sidekick.
"It was just the experience of being with such a nice person [like] Jimmy Fallon," Long told TV Insider in an exclusive interview.
It may have been just the experience, but the moment has definitely brought him some new found fame. "I have only been recognized once, but I've been getting a lot of friend requests on Facebook, and social media," Long said.
"I've just been so surprised by all the love that I am getting in the comments and everything." And if anyone is wondering, he's begun casting Andrew Long International Spy in his head, and hopes "Neil Patrick Harris replies."
Check out the video below:
https://www.youtube.com/watch?v=DYvs_xyEhp8
The Tonight Show Starring Jimmy Fallon, Weekdays, 11:35/10:35c, NBC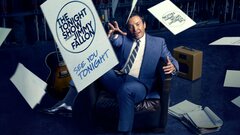 Powered by