2017 NASCAR TV Schedules on Fox Sports and NBC Sports
The biggest race on the NASCAR calendar is also its first points race of the season: the "Great American Race," the Daytona 500 from Daytona International Speedway on Sunday, February 26, airing on Fox.
Along with Monster Energy becoming the new Cup Series title sponsor, other big changes have Stewart-Haas Racing switching from Chevy to Ford and Clint Bowyer replacing retired Tony Stewart in the No. 14. Dale Earnhardt Jr. returns to action after concussion-like symptoms ended his 2016 season early, and Jimmie Johnson begins his quest for an all-time record eighth Cup Series championship. Fox and NBC continue to air NASCAR national series races, with Fox and FS1 airing the first half of the Cup and XFINITY schedule, and NBC and NBCSN taking over June 30 at Daytona. The Camping World Truck Series remains on FS1, with the Oct. 14 race at Talladega airing on Fox.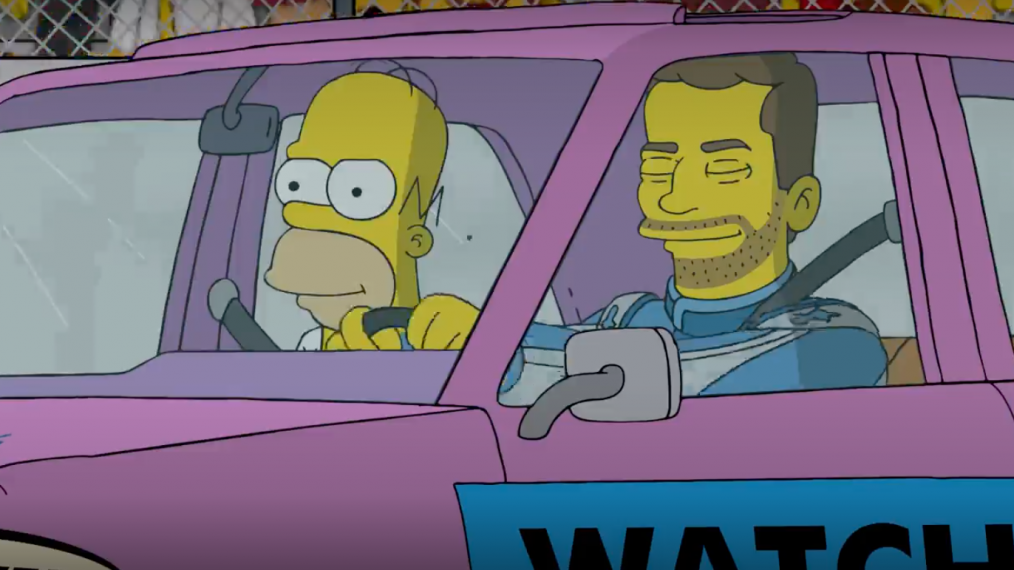 See Also
The animated promo also features NASCAR stars Jeff Gordon and Dale Earnhardt Jr.
2017 NASCAR RACING SCHEDULES
All times Eastern. Schedules subject to change.
MONSTER ENERGY NASCAR CUP SERIES SCHEDULE
Date/Race/Track/TV Network/Time (ET)
Feb. 18 The Clash at Daytona/Daytona International Speedway FS1 8pm
Feb. 19 Daytona 500 Qualifying/Daytona International Speedway FOX 3pm
Feb. 23 Can-Am Duels/Daytona International Speedway FS1 7pm
Feb. 26 Daytona 500/Daytona International Speedway FOX 2pm
March 5 Folds of Honor QuikTrip 500/Atlanta Motor Speedway FOX 2:30pm
March 12 Kobalt 400/Las Vegas Motor Speedway FOX 3:30pm
March 19 Camping World 500/Phoenix International Raceway FOX 3:30pm
March 26 Auto Club 400/Auto Club Speedway FOX 3:30pm
April 2 STP 500/Martinsville Speedway FS1 2pm
April 9 O'Reilly Auto Parts 500/Texas Motor Speedway FOX 1:30pm
April 23 Food City 500/Bristol Motor Speedway FOX 2pm
April 30 Toyota Owners 400/Richmond International Raceway FOX 2pm
May 7 GEICO 500/Talladega Superspeedway FOX 2pm
May 13 Go Bowling 400/Kansas Speedway FS1 7:30pm
May 19 NASCAR Showdown/Charlotte Motor Speedway FS1 6pm
May 20 NASCAR All-Star Race/Charlotte Motor Speedway FS1 6pm
May 28 Coca-Cola 600/Charlotte Motor Speedway FOX 6pm
June 4 AAA 400 Drive for Autism/Dover International Speedway FS1 1pm
June 11 Pocono 400/Pocono Raceway FS1 3pm
June 18 Firekeepers Casino 400/Michigan International Speedway FS1 3pm
June 25 Toyota-Save Mart 350/Sonoma Raceway FS1 3pm
July 1 Coke Zero 400/Daytona International Speedway NBC 7:30pm
July 8 Quaker State 400/Kentucky Speedway NBCSN 7:30pm
July 16 New Hampshire 301/New Hampshire Motor Speedway NBCSN 3pm
July 23 Brickyard 400/Indianapolis Motor Speedway NBC 3pm
July 30 Pennsylvania 400/Pocono Raceway NBCSN 3pm
Aug. 6 Watkins Glen 355/Watkins Glen International NBCSN 3pm
Aug. 13 Pure Michigan 400/Michigan International Speedway NBCSN 3pm
Aug. 19 Bass Pro Shops NRA Night Race/Bristol Motor Speedway NBC 7:30pm
Sept. 3 Bojangles' Southern 500/Darlington Raceway NBCSN 6pm
Sept. 9 Federated Auto Parts 400/Richmond International Raceway NBCSN 3pm
The Chase Playoffs
Challenger Round
Sept. 17 Chicagoland 400/Chicagoland Speedway NBCSN 3pm
Sept. 24 New Hampshire 300/New Hampshire Motor Speedway NBCSN 2pm
Oct. 1 Dover Fall Race/Dover International Speedway NBCSN 2pm
Contender Round
Oct. 7 Bank of America 500/Charlotte Motor Speedway NBCSN 7pm
Oct. 15 Hellman's 500/Talladega Superspeedway NBC 2pm
Oct. 22 Hollywood Casino 400/Kansas Speedway NBCSN 3pm
Eliminator Round
Oct. 29 Martinsville Fall Race/Martinsville Speedway NBCSN
Nov. 5 AAA Texas 500/Texas Motor Speedway NBC 2pm
Nov. 12 Can-Am 500/Phoenix International Raceway NBC 2:30pm
Championship Round
Nov. 19 Ford EcoBoost 400/Homestead-Miami Speedway NBC 2:30pm
NASCAR XFINITY SERIES SCHEDULE
Date/Race/Track/TV Network/Time (ET)
Feb. 25 Powershares QQQ 300/Daytona International Speedway FS1 3:30pm
March 4 Rinnai 250/Atlanta Motor Speedway FS1 1:30pm
March 11 Boyd Gaming 300/Las Vegas Motor Speedway FS1 4pm
March 18 DC Solar 200/Phoenix International Raceway FOX 4pm
March 25 NASCAR XFINITY Series 300/Auto Club Speedway FS1 4pm
April 8 Cowboy 300/Texas Motor Speedway FOX 1:30pm
April 22 Fitzgerald Glider Kits 300/Bristol Motor Speedway FS1 12:30pm
April 29 ToyotaCare 250/Richmond International Raceway FS1 12:30pm
May 6 Sparks Energy 300/Talladega Superspeedway FOX 1pm
May 27 Hisense 4K TV 300/Charlotte Motor Speedway FS1 1pm
June 3 Dover Spring Race/Dover International Speedway FOX 1pm
June 10 Pocono 250/Pocono Raceway FOX 1pm
June 17 Michigan 250/Michigan International Raceway FS1 1:30pm
June 24 American Ethanol E15 250 300/Iowa Speedway FS1 8:30pm
June 30 Subway Firecracker 250/Daytona International Speedway NBCSN 7:30pm
July 7 Alsco 300/Kentucky Speedway NBCSN 8pm
July 15 New Hampshire 200/New Hampshire Motor Speedway NBCSN 4pm
July 22 Indianapolis 250/Indianapolis Motor Speedway NBCSN 3:30pm
July 29 U.S. Cellular 250/Iowa Speedway NBC 3:30pm
Aug. 5 Zippo 200 at the Glen/Watkins Glen International NBCSN 2pm
Aug. 12 Mid-Ohio 200/Mid-Ohio Sports Car Course NBCSN 2pm
Aug. 18 Food City 300/Bristol Motor Speedway NBCSN 7:30pm
Aug. 27 Road America 180/Road America NBC 3pm
Sept. 2 VFW Sport Clips Haircuts 200/Darlington Raceway NBCSN 3:30pm
Sept. 8 Virginia529 College Savings 250/Richmond International Raceway NBCSN 7:30pm
Sept. 16 Chicagoland 300/Chicagoland Speedway NBCSN 3:30pm
NASCAR XFINITY Series Chase
Round of 12
Sept. 23 VisitMyrtleBeach.com 300/Kentucky Speedway NBCSN 8pm
Sept. 30 Drive Sober 200/Dover International Speedway NBCSN 3pm
Oct. 6 Blue Cross Blue Shield of North Carolina Drive for the Cure 300/Charlotte Motor Speedway NBCSN 8pm
Round of 8
Oct. 21 Kansas Lottery 300/Kansas Speedway NBC 3pm
Nov. 4 O'Reilly Auto Parts 300/Texas Motor Speedway NBCSN 8:30pm
Nov. 11 Ticket Galaxy 200/Phoenix International Raceway NBC 3:30pm
Championship 4
Nov. 18 Ford EcoBoost 300/Homestead-Miami Speedway NBCSN 3:30pm
NASCAR CAMPING WORLD TRUCK SERIES SCHEDULE
Date/Race/Track/TV Network/Time (ET)
Feb. 24 NextEra Energy Resources 250/Daytona International Speedway FS1 7:30pm
March 4 Active Pest Control 200/Atlanta Motor Speedway FS1 4:30pm
April 1 Alpha Energy Solutions 250/Martinsville Speedway FS1 2:30pm
May 12 Toyota Tundra 250/Kansas Speedway FS1 8:30pm
May 19 North Carolina Education Lottery 200/Charlotte Motor Speedway FS1 8:30pm
June 2 Dover 200/Dover International Speedway FS1 5:30pm
June 9 Rattlesnake 400/Texas Motor Speedway FS1 8pm
June 17 Gateway 200/Gateway Motorsports Park FS1 8:30pm
June 23 Iowa 200/Iowa Speedway FS1 8:30pm
July 6 Buckle Up in Your Truck 225/Kentucky Speedway FS1 7:30pm
July 19 Eldora 150/Eldora Speedway FS1 9pm
July 29 Pocono 150/Pocono Raceway FS1 1pm
Aug. 12 Michigan 200/Michigan International Speedway FS1 1pm
Aug. 16 UNOH 200/Bristol Motor Speedway FS1 8:30pm
Sept. 3 Chevrolet Silverado 250/Canadian Tire Motorsport Park FS1 2:30pm
Sept. 15 Chicagoland 225/Chicagoland Speedway FS1 8:30pm
NASCAR Camping World Truck Series Chase
Round of 8
Sept. 23 UNOH 175/New Hampshire Motor Speedway FS1 1pm
Sept. 30 Las Vegas 350/Las Vegas Motor Speedway FS1 8:30pm
Oct. 14 Fred's 250/Talladega Superspeedway FOX 1pm
Round of 6
Oct. 28 Alpha Energy Solutions 200/Martinsville Speedway FS1 1:30pm
Nov. 3 Longhorn 350/Texas Motor Speedway FS1 8:30pm
Nov. 10 Lucas Oil 150/Phoenix International Raceway FS1 8:30pm
Championship 4
Nov. 17 Ford EcoBoost 200/Homestead-Miami Speedway FS1 8pm