'The Simpsons' Featured in Fox Sports Daytona 500 Promo (VIDEO)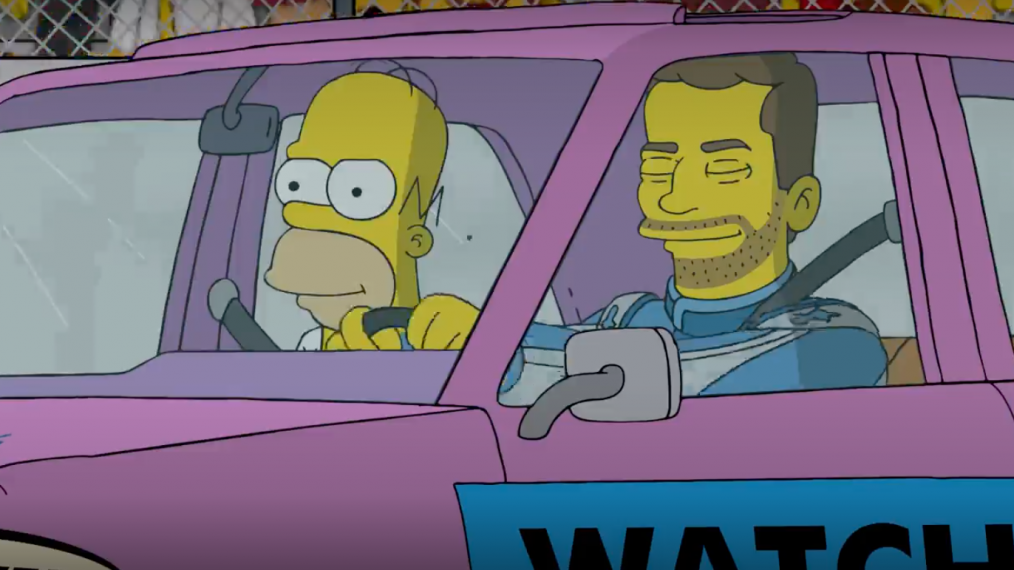 Homer, Marge, Bart, Lisa and Maggie Simpson—along with a few other characters from the long-running series—join "Simpsons-ized" versions of NASCAR stars Jeff Gordon and Dale Earnhardt Jr. in an animated promo for Fox Sports' Daytona Day, a marketing initiative in support of the 59th running of the Daytona 500, which will air on Fox Feb. 26.
In the brief video, the Simpsons clan gets involved in the race, with Gordon (who is now a Fox NASCAR analyst), calling some of the action. Homer ends up riding shotgun with Earnhardt Jr. (after Homer wastes a pit stop not to fix his car, but to fill himself up with Krusty Burgers). Earnhardt Jr. also gets to utter Homer's famous "D'oh!" catchphrase as he and Homer get passed by baby Maggie on her trike.
Viewers of Sunday's Super Bowl got a sneak peek at the promo, which is now scheduled to air in the Feb. 12 and 19 episodes of The Simpsons. And you can check it out here:
The Daytona Day campaign, now in its second year, celebrates the parties and social gatherings happening around the country as fans watch the Daytona 500. The Simpsons was also a part of last year's campaign.
"The Simpsons promo was a successful cornerstone of last year's Daytona Day campaign, and NASCAR is honored to work with Fox on the initiative again this year," said Jill Gregory, NASCAR senior vice president and chief marketing officer. "As a past Daytona 500 champion making his return to racing, it's only fitting that Dale Earnhardt Jr. join The Simpsons to build anticipation for the Great American Race."
See Also
In the show's Feb. 12 return, Homer desperately searches for greasy food once Springfield's fast-food restaurants become healthy.
"It was really cool…it's such a popular show," added Jeff Gordon about his involvement in the campaign. "Whether [The Simpsons] are making fun of you or not, it's just an honor to be a part of it."
The Simpsons, Sundays, 8/7c, Fox
Daytona 500, Feb. 26, 2/1c, Fox
Powered by