'SIX': Edwin Hodge on Chase's Evolution
He may have joined SEAL Team Six as a breacher, but as of Wednesday's episode, Six's Robert Chase is now doing more than just breaking down doors. "You see this broad evolution of Chase, which I really, really love," says Edwin Hodge, who plays the stoic yet confident newbie. "He starts off as a breacher, but he quickly goes a different direction."
Part of his new direction included hitting up his government-lawyer father for confidential intel that could help the team figure out who has captured their former leader Rip (Walton Goggins). Making the situation stickier is the reveal that part of the team covered up Rip's murder of an unarmed civilian and the fact that the elder Chase isn't exactly on board with his son's choice of careers. But that doesn't mean Hodge's character doesn't have a support system in his corner.
See Also
'It's very important to us to get this right.'
"When you go out on this mission, you go out as family," he says of the SEAL bond. "Everybody has their specialty. You have your breacher, you have your first in command, your second, the front man who's first guy in the building even before the breacher." Like castmates Kyle Schmid and Barry Sloane, Hodge attributes the on-screen soldiers' off-screen connection to the training camp they went through before filming.
"It was absolutely amazing," he recalls. "I don't think that we would have the camaraderie that we have as actors and as friends that we do had we not gone through SEAL Fit training. We went in as individuals and we did come out as a unit. I can honestly say that."
See Also
History explores the military's elite counterterrorism unit with Six, an eight-episode scripted drama based on actual missions. For the series, the cast underwent intense training. Here's a look at who geared up for battle.
Fingers crossed that unit—and unity—will still be intact after they set out to rescue Rip from his captors, because we're really hoping that History recruits these guys for a second season sometime soon.
Six, Wednesdays, 10/9c, History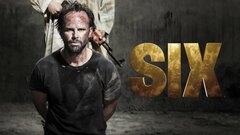 SIX
where to stream
Powered by